The sneakers are appearing across every market. Now the brands are focusing on blending the past and the present. In market you will experience such blend, draw inspiration or essentials from the '80s and '90s. While technology that is being used is totally different and amazing. The sneakers in 2018 show us the idea has been modified and re-designed with modern techniques.
Designers are creating sneakers that are both tempting aesthetically and maintain to improve performance during energetic workouts. Function meets fashion. Possibly you are looking for the latest high fashion sneakers which are listed below.
VANS X WOOD WOOD ERA
This 100-dollar shoe has white leather on the upper, white liner, white laces, and a white sole make for a bleak and basic look. These shoes are just simple love letter to their fans, it's more than that. Wood has gear up with Vans to make a special edition of the iconic Vans Era model. Made on the OG edition of the low-top canvas shoe, has slightly thicker sole unit than the regular ones. The imperfect with tilted letters shows the DIY spirit of fan customs.
ADIDAS INDOOR COMP SPEZIAL
Adidas call them the recollection of '90 era style, modified for the modern world, with $120 the classic Spezial has indoor soccer soles, and this new Indoor Comp Spezial from Adidas has a ton of inspiration from sports. With the regular fit and lace closure grain leather upper make them the best choice. Adidas moves into that history with these, designing them for the party souls. Not only this you can use it for walk, jog around comfortably. White leather and bone suede make a neutral balanced foot for blue stripes; the full gum sole give a fresh look.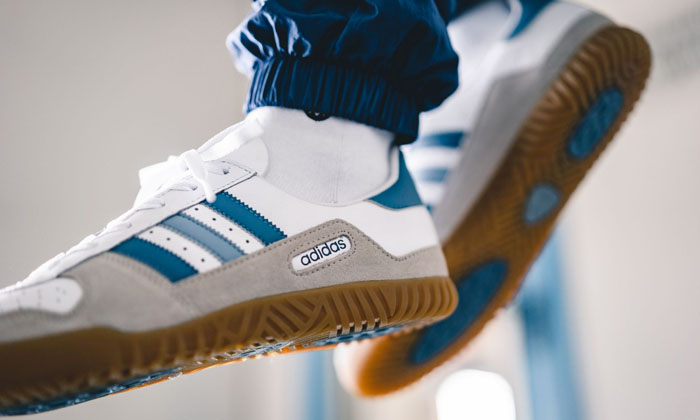 NIKE X SUPREME GATO
The Supreme x Nike Gatos recently have made a huge impact. Now people called them the first Supreme sneaker of the season. The color ways are all the same and with no change in its aesthetic sense. These $110 indoor soccer sneakers are available in red, white, black, white and baby blue, with most of the pairs boasting contrast textile on the quarter. Every pair has white swoosh and gum outsole to have an extra grip.
ADIDAS MUNCHEN SUPER SPEZIAL
The most basic sneaker currently is Adidas's Munchen Super Spezial. The sneaker itself is small; a nearly one piece upper is dotted with some perforations and stitches. The classic three stripes are most interest part of the shoe. These are not going to break any necks, but they can easily become a closet clip. The grain cattle leather shades of lime green and rich navy are controlled by white harder rubber soul and white stripes.
NIKE AIR VAPORMAX 95
Vapormax sole to a handful of archive Air Maxes, Nike is able to take a classic look and remix it in a way that feels both fresh and retro at the same time. The upper on this French Blue Air Vapormax 95s is ripped straight out from older times. But instead of the typical white EVA sole, there's the glossy blue Vapormax sole, which pulls the whole aesthetic into the present.
REEBOK X TROUBLE ANDREW WORKOUT PLUS
The Workout Plus is one of our favorite Rebook silhouettes from the brand's entire history. So, there is an excitement that Reebok can teams up with an external collaborator to offer something fresh. This version is nearly the same as their previous design, but instead of the base shoe is black and all the artistic flourishes are in white with branding in full color. The look is lighthearted and there's something about it that's also timeless.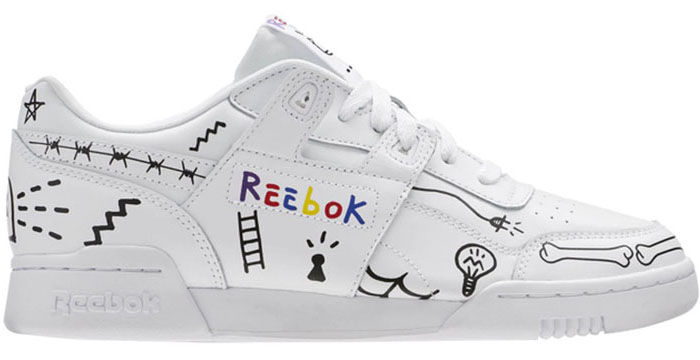 REEBOK X VETEMENTS MODIFIED TRAINER
There's a lot of griping done, there is an exemption to every rule, and the exception to this rule is the Reebok x Vetements Modified Trainer. The shoes are pre-beat to heck and bring an outrageous price tag, but they look fantastic. The teamwork resulted in a handful of color ways of this sneaker and each one seems to get better than the previous. You would love everything about the shoe: the apparently random straps, loops, a flowing together of materials and textures, and color combinations that would only make sense in the '90s.
AIR JORDAN 12 INTERNATIONAL FLIGHT
Air Jordan's International Flight album has slowly rolled out one pair at a time and each one is better than the last. The newest addition is a pair of Jordan 12s. White leather is debossed with balance, while the nubuck and liner feature block print style clouds. It was a singular moment in Jordan's history, and even if you don't remember it, the shoes it inspired are worth grabbing with $190.