Boots have long belonged to the movers and shakers of history, and dam it if they're not going to keep going. And the Chelsea boots are among the famous type of footwear for men. A Chelsea boot is close-fitting boot with inside more flexible than the outside. These boots came out as the shoe of choice for style-minded men due to its versatility.
Chelsea boots can be divided into by two important details. The one is an ankle-hitting height and an upper constructed from two pieces of leather sewn together. While the panel of elastic that joins the two parts together. The Other version has e a zipper closure, so the choice is yours.
Saint Laurent Wyatt 30 Chelsea Boots
The Wyatt is with black leather Chelsea boot, made in Italy. It has quality calfskin leather that's durable but still bendable. The "30" in the name refers to the heel, which is enough of a boost to help you look prominent. These are the standard-size boots because it has ankle-hugging elastic, the almond-toe silhouette, and a smartly designed pull tab hidden inside.
Blundstone Original 500 Series
Blundstone's Original 500 series has a protection system that reduces impact on your soles by 33 percent. Boots has a removable foot-bed that wicks moisture away to add further comfort and dependability. While the outsole is dual-dense and been injection-molded to make for a softer step. It comes with elastic side panels that make it easy to take the boots on and off. On the other hand, the midsole also have polyurethane construction to provide support and comfort
Paul Evans Dean Chelsea boot
These Chelsea boots bridge the gap between formal and casual better than any other on this list. Men wear these boots when they mean business. The toes on these are blade sharp, trim and beveled, rather than round and bulbous. All these details make these boots to look good with anything slim and black.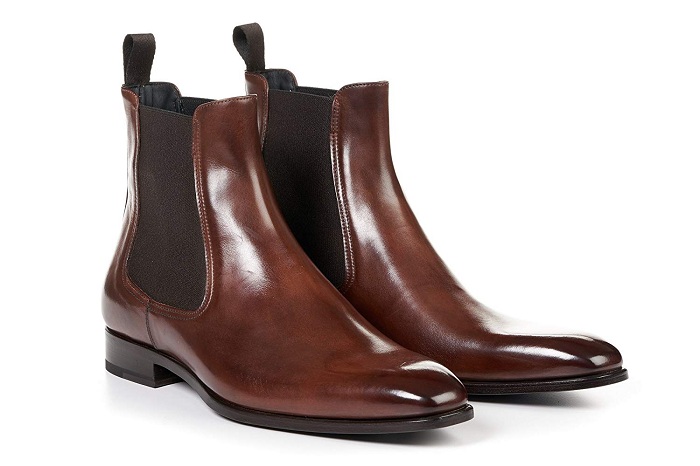 Kurt Geiger
Kurt Geiger is the name in Chelsea boots when it comes to producing footwear that is classic and contemporary design elements. The range of Chelsea boots leaves no flaw behind. The brand offers broad line-up of fresh and familiar takes on this menswear favorite. They are famous for their style and leather quality.
Dr Martens
It is the favorite brand of male models and actors. Dr Martens produces the best shoes in the world. The brand's Chelsea boots take the essence of the original and add some trademark edge to de-gentrify the style. While its bran 2976 series becomes the world favorite Chelsea boot.