With revolution boost in the phones technology, the apps become the essential part of every smartphone. People now a days, are relative called as app lovers or app enthusiastic. Every now and then, there comes hundred of mobile apps in the market. Whereas some provides the best gaming experience, some used for fun, chatting, video app, it seems there is an app for each thing in this world. So the phone apps are getting bigger and bigger in this modern world.
So in the sea of phone app, it's extremely difficult to select and download the best among those. So, everyone seems to have that one app that they find immensely useful, and are puzzled as to why the rest of the world isn't using it. In order to help you to select, here is the list for you.
Google Assistant
Google Assistant is an artificial personal assistant developed by Google that allows users to navigate, communicate, and get a lot of things done. Google assistant on your Android or iOS devices to trigger apps, ask any questions, play games, make plans, etc. It is available for all kind of Android smartphones that run Android marshmallow, Nougat, or Oreo and even on smart watches.
SwiftKey Keyboard
SwiftKey keyboard is used by over 250 million users worldwide. It uses artificial intelligence that enables it to learn and can satisfactorily predict what the user intends to type. It also has an auto-correct and gesture typing for faster input. Moreover, there is an inbuilt GIF search engine, a wide range of themes and is an excellent keyboard for bilingual folks.
Nova Launcher
Nova Launcher is one of the best Android launchers on play store. It is smooth and lightweight with tons of customization. Many icon packs are available in the Play Store to change its looks. This app supports customization of app-drawer, has a scroll-able dock, notification badges, folder and icon customization, and packs around a dozen gestures for ease of use.
HULU
Well besides Netflix, Hulu offers thousands of movies and TV shows. And they are updated with the latest episodes after they air. Hulu offers various paid subscription models, including one that opens up the entire streaming library for a month, and another that removes mid-stream ads for a month.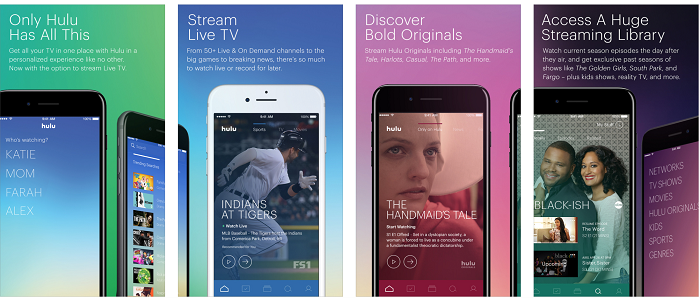 Google Drive
Google Drive is a bigger cloud storage service that provides free space to store and access your files in the cloud platform. Besides browsing through files and folders you saved in your Drive and share, move, download, rename or print any files from the application. It also encompasses Google Docs, Sheets and Slides, where you can edit documents, spreadsheets, forms, presentations, etc. and save them in the Drive. Users can have access to 15 GB of free space across Google Drive, Gmail, and Google Photos. This essential Android app helps you to keep your valuable files backed up on the cloud for free.