Having the best motorcycle sunglasses and goggles are vital for the comfort and safety during the ride. There are a few factors to consider when choosing the best pair, and you may want to make sure you get a versatile model that can perform in different riding conditions. The best motor cycle sunglasses and goggles have basically two purposes. The one is to protect your eyes from sunlight as you ride. And the second one is to protect your eyes from debris in the air.
Well any sunglasses can take care of the one, but bikers must be extra careful of airborne fragments traveling at high speeds since they don't have the protection of a windshield. So, long distance and high speed rides require protection from the wind heavy sunlight as well.
Bobster's Renegade Photochromic
Bobster's Renegade Photochromic glasses are the perfect example of minimalist safety gear. It sports the 100% UVA and UVB protection to keep the sun from obscuring your vision. With a removable closed cell foam structure and an adjustable goggle strap for the utmost comfort during long rides. Not only that these goggles offer wind and weather resistance, ensure the clear ride.
SPY Sprinter
SPY is famous brand within the motorcycle and traditional cycling world, and their Sprinter glasses tackle both genres of riding with ease. With the qualities of Happy Lens, it improves contrast and colors, enhances clarity during daily travel and increases both mood and alertness. SPY has integrated an interchangeable 8-base polycarbonate ARC lens system that allows you to obtain an entirely new pair with ease
Wiley X Brick Sunglasses
Wiley X is a trusted brand, whether it's in military eyewear, protective firearm glasses, or motorcycle-approved elements. Their Brick sunglasses protect the wearer from dust, debris, wind, and back-lighting, due to Wiley's technical "climate control" characteristics. The extended design offers better peripheral vision for the rider, while also negating wind and dust due to an aerodynamic build. These motorcycle sunglasses are dust proof as well.
One 100% Barstow Garage
One 100% Barstow Garage goggles are the perfect personification of one of the motto world's classic, age-old styles. It has minimal frame design and sole lens shape help riders to achieve maximum visibility and peripheral awareness. While a triple-layer foam construction and liner help to seal out and prevent moisture from penetrating the goggles during your commute. An anti-fog polycarbonate lens system and integrated pins allow for an adaptable silhouette, while enhanced upper vents promote the circulation of air to further prevent moisture from accumulating inside of the goggles.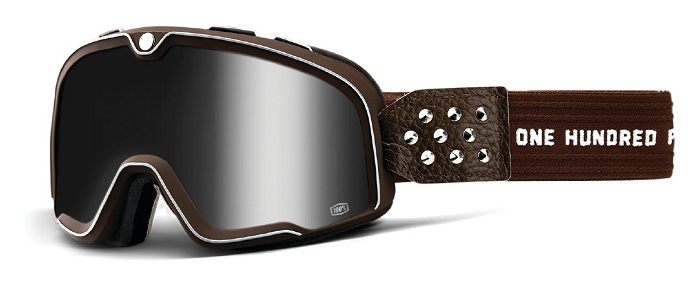 Ornamental Conifer Barstow
These motorcycle goggles have triple-layer moisture managing foam liner, flexible urethane frame, and anti-fog Lexan lens. All these combine to promote a comfortable, durable build that's full of defined character. On the other hand, their form-fitting curvature and tailored lens shape cover all the bases when it comes to protective peripherals.