Besides the cloth style, your car and speaking make the impression, but a trendy hairstyle has no match. So, for men the most important fashion style is way they have their haircut. The trendy hairstyle gives you the ultimate fashion icon style, where no apparels or your luxury car can do it. Men always known by the hair style they have. So leave everything else and have trendy hairstyle to make an impression.
S, for men there are countless hairstyles trends. The classic hairstyles for men stay fresh with modern updates. Whether you add some on trend texture, get the look with medium length hair, or add some type of fade, these vintage styles still look great today.
The Textured Crop
The textured crop is neither worryingly precise nor rebellious, just flattering for the majority of guys. The style, in a nutshell, is a remix of the short back and sides where the length on top works with gravity rather than against it. In order for something with a smart, smoother finish by using water-based pomade.
The Undercut Quiff
The quiff is the basic hairstyle of youth armed with too many hormones and too many bargain hair products. For that haircut just disconnect the sides from the top at clipper grade zero, creating a blunt contrast in length. After that you need a taper off through the neck and sides while leaving length on top and your fringe will allow room to create texture and volume at the front.
Classic Fade Haircuts
Fade haircuts are a classic men's haircut that also has many modern updates. First is a Caesar haircut with a high drop fade and textured angled fringe. It's one of the many ways to wear the trendy short crop haircuts. The closer cut profile, temple and neck fades, and line up at the forehead. Then you can have curly high top fade.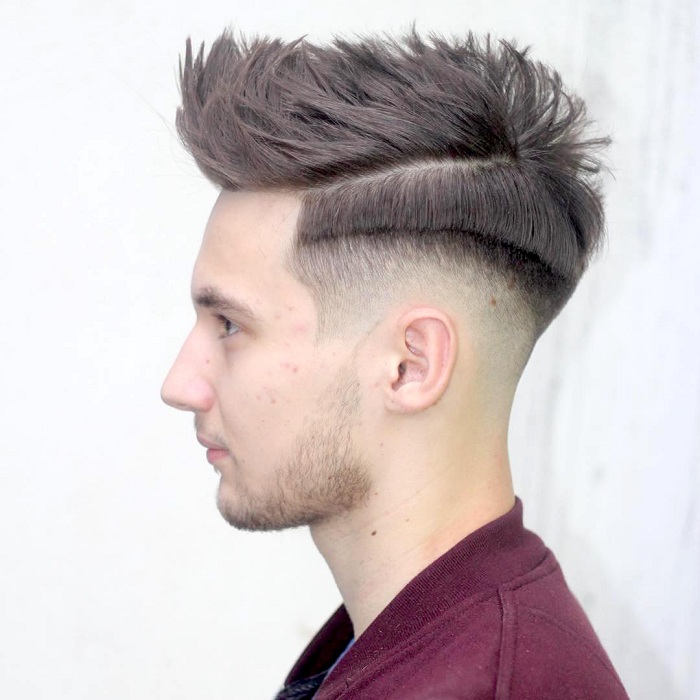 Side Part Hairstyles
Side part hairstyles are a classic men's look that can also be modern. Update the Don Draper side part by wearing hair loose instead of slick and add a drop fade. Shaved aka hard parts are another way to create a fresh look. The hard part a thin shaved line in the midst of short hair or a wider line that extends a tape up that makes a statement. Wear the hard parts with short hair styled up into a classic look.