In New York City, Google has finally unveiled its announcements regarding gadgets. Google in its event formally disclosed about what they are launching this year. With the more innovation in technology, the competition among the brands becomes tougher and tougher. Well most of technologies are quite similar in different gadgets, but they usually differ from the modification and style they use.
Google still handle to pull out a few revelations. In an event Google has launched two new Pixel 3 phones; we saw the ChromeOS-powered tablet, called the Pixel Slate, and a new Google Home with a screen called the Home Hub and the Pixels Earbuds.
Pixel Phones
The third-generation Pixel 3 $799 and Pixel 3 $899 XL were publicized after months of gossip and unconfirmed hardware leaks. The Pixel 3 sports a 5.5-inch OLED display, while the Pixel 3 XL comes equipped with a 6.3-inch OLED display.
The Pixel 3 and Pixel 3 XL run on almost same hardware. Both have Qualcomm Snapdragon 845 processor with 4GB of memory. They are available with 64 or 128GB of storage. There is no MicroSD card slot, nor is there a headphone jack.  Rather the Pixels now have wireless Qi charging and they're IP68-rated for water resistance. The Pixel 3 also comes with a 2915mAh battery and Pixel 3 XL's battery is 3430mAh.
Both the Pixel 3 and Pixel 3 XL share camera hardware, too. The front-facing camera is a dual 8-megapixel camera with varying apertures to help facilitate moody portrait photos. The main camera is a 12.2-megapixel camera with Optical Image Stabilization (OIS) and is capable of a few neat actions.
New Chromebook (Pixel Slate)
The Pixel Slate is meant to be a Chromebook or a tablet, but all it is talented to play the part of either device. The Pixel Slate is a tablet device with Chrome OS brains. It breaks into a sold-separately Pixel Slate Keyboard with built-in track pad. You can carry it out on its own to watch video on the 12.3-inch Molecular Display screen, take a group video call with the wide-angle front-facing camera, or draw on it with the sold-separately Pixel book Pen.
The Pixel Slate also has dual front-facing speakers, a fingerprint sensor, and two USB-C ports, though the latter is necessary because there is no headphone jack. The Pixel Slate will be available with Intel Core m3, i5, or Celeron processors, along with 4GB, 8GB, or 16GB of memory. It's available in up to 256GB of storage.
New Google Home Hub
This new Home Hub has 7-inch display is a bit smaller and it doesn't have a camera for 'Duo' video calls. The device is modeled to match the existing family of Google Home devices. The Google Home Hub is meant to sit in a common area or your bedroom. It features an Ambient EQ mode, which dims the screensaver depending on the time of day so that it's never blaring in your face. And since it is a hub, it comes with a home screen of sorts called Home View, which offers smart home status controls for all.
It costs $150 and comes readily available in four colors: chalk, charcoal, aqua, and sand. The Google Home Hub is like a Google Home, with a built-in speaker and Google's smart assistant. You can ask it to turn on the lights, lock the doors, what the weather is, how long it will take to get to work and just about anything else you'd normally want to know from Google.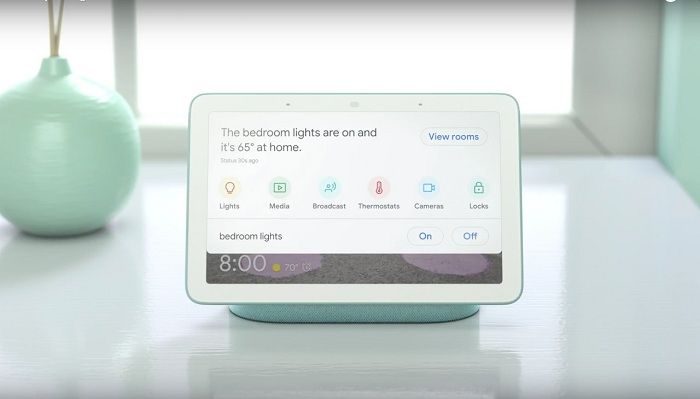 Some New Accessories (Earbuds)
There's a new pair of Pixel USB-C earbuds$30, which aren't the upgrade we were looking for to last year's Pixel Buds. But it offers push-button access to the Google Assistant. There's also the Google Pixel Stand, which is made for the Pixel 3 now that it supports wireless charging. The company quietly released a new version of the Chromecast dongle with support for multi-room audio in sync with other Google smart devices.
The new "Google Pixel USB-C earbuds" are a wired pair of earbuds for Google's SmartPhones which promise good audio on a budget. Google says that these earbuds provide "smooth sound" with 24-bit audio. The overall design is pretty similar to that of the Pixel Buds, but these are closer to how Apple styles its Earpods, with glossy white plastic.
Of course, these earbuds connect over USB-C and they should work with any device for basic audio. Google does mention that they "work best" with Pixel phones, though. Adjustable loops enable a snug fit in your ear and there's an inline remote on the cable.