Well, HTC comes up with fully equipped next PC-VR headset, the Vive Cosmos. The company will begin selling the full system for $699. HTC has finally decided to abandon the old HTC Vive "lighthouse" tracking boxes in favor of built-in, "inside-out" tracking cameras. On the other hand, it's basically improved in every way than the original Vive that preceded it. Thus it is aimed at existing HTC Vive owners and VR enthusiasts who want better comfort, improved visuals.
Initially, user will get a 12-month trial if they give pre-order before October 3rd, and a six-month one thereafter. Whereas, the VR game service is usually $99 a year.
HTC Vive Cosmos
While, coming to some of its features, it is an enhanced headset compared to earlier models. It has flip-up goggles, inside-out tracking, a modular faceplate, brand new controllers and the highest-res VR display on the market. Like the Vive Pro, it also has integrated headphones, but if you don't like them, you can replace them with your own.
Besides that, speaking of its design and comfort, it offers 1440 x 1700 pixels per eye with three subpixel RGB LCD panels. And that pushes the number of pixels higher than even the Valve Index and edges out the Pro. Other than this, the headset has removable mesh faceplate. It allows the Cosmos to be modular. The idea behind is that HTC will introduce "mods" to add more functionality to the Cosmos.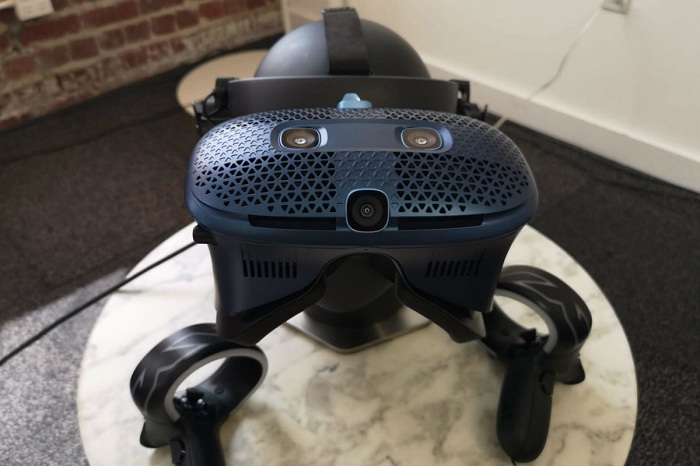 Th Specs
On the other hand, HTC Vive Cosmo has impressive features in form of resolution. It's 1,440X1,700 pixels (per eye) or 2,880X1,700 pixels combined with a refresh rate of 90Hz.  Whereas, the earlier model had a resolution of 1,080X1,200 pixels (per eye) or 2,160X1,200 pixels combined. Each pixel has RGB sub-pixels to help minimize the "screen door effect" aka those rainbow patterns you see on a screen. HTC claims the lenses have 40% better clarity than the Vive.
Last but not least, speaking of its controls, it's got an analog stick, two face buttons and one menu button on each controller, triggers, and grip buttons. However, it also adds a second trigger just like PS4 and Xbox One controllers have.