In men's fashion, few things of menswear come packaged with as much attitude, heritage or unfiltered masculinity as a leather jacket. This piece of men clothing is very much popular with boys, and pilots, motorcyclist and others. As they called it that the leather jacket is high-testosterone menswear, but it's also a surprisingly versatile classic. In short, no wardrobe is complete without these.
Well, coming to the leather jackets for men, it has lot more variety, style and yet price for each one. Everybody chooses it own style and type of jacket according to its physique and taste. While some goes for the long jackets, while other prefers the custom styles. So, here are few types of leather jackets, pick the best which suits you.
Biker Jacket
The bikes jackets are said to be the jackets of bad boys. The bike jacket is a cropped leather jacket, usually in black, complete with studs and asymmetric zips.  Well these were originally worn, yet unsurprisingly, by motorcyclists. The asymmetric cut was designed as such to allow riders to lean over their bikes without the fastenings digging into the body. Initial these jackets had a snug fit with a D-pocket and lapels designed to snap down or fold over each other and zip all the way up. A rugged garment, honed from goatskin, cowhide or horsehide.
Bomber Jacket
The type jacket has become an iconic menswear staple in its own right in recent years. Many celebrities and fashion icons of the world used to and are still using this style of leather jacket for the clothing style. It has a simple and neat shape, with a cropped body featuring a central zip and fitted waist and cuffs. Jackets can be rendered in anything from shiny nylon to soft, flexible leather.
Field Jacket
This is of the most undervalued pieces of military menswear. The field jacket is a stone cold classic that was originally rendered in a cotton drill fabric, but has since been updated in leather. The jacket is usually slightly longer than other styles, with multiple front pockets and belted at the waist. Often comes up with buttoned and a hidden placket. While it looks mainly good in rich brown leather and as it falls below the waist. Besides all, it will keep you warmer and better shield you from the elements.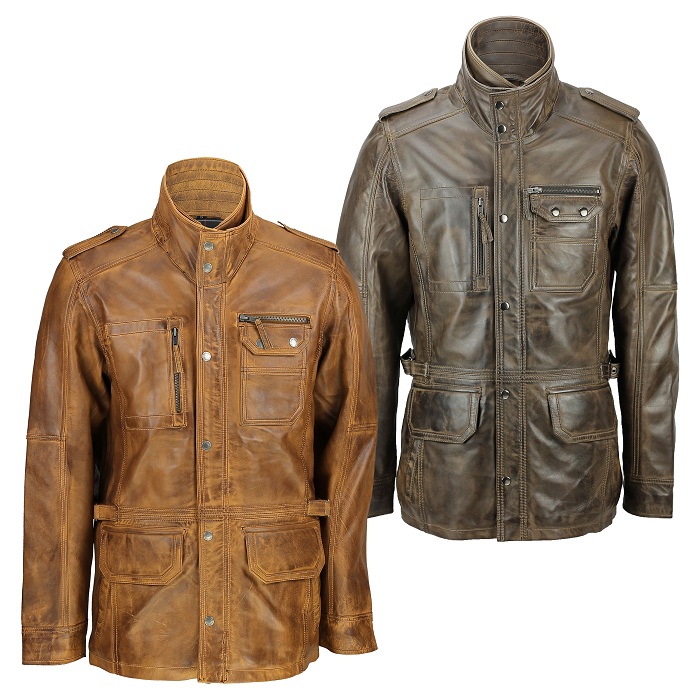 Racer Jacket
Other than from the military and sportswear use, racer jacket is one of menswear's biggest influences is the automotive world. This jacket is accompanied by driving shoes, ribbed-knee jeans et al. well this bring the two together and wrap them in leather and what you have is the racer jacket. On the other side, heavy horsehide and a strong main zipper is believed to provide enough protection for the racer boys.
Flight Jacket
Well this called the king of all leather jackets, as the name suggests, the flight jacket was originally made for pilots. Bulky, and with a shear lining for warmth, it's a statement investment piece for both airmen and stylish for other. Well this becomes the fashion icon, and to stay cool in more ways than one, ensure you don't go overboard with the layering.