It is natural for all music lovers that they have music in their fingers. When music is on, their fingers quickly turn into musical instruments by tapping on any surface, anywhere: while driving, cycling and even at work. The drift of devices that renovate the natural ways we make music is advancing with a tiny wearable gadget called Music Fingers. It literally sets music at your fingertips and allows you to tap out beats on any surface.
Music Fingers is a wearable device and playful gadget that's intended to compose music and to play along just by tapping your fingers.
Music Fingers
It's a clip-shape gadget that's going on your finger and kind of looks like any pulse reader you'd see in a hospital. The gadget then connects to the Music Fingers app on your smartphone via Bluetooth, where sounds or notes can be attributed to the clip's two buttons. Once that's achieved, start performing by tapping your fingers.
Music Fingers is the innovation of a group of buddies and artists with some tech-enthusiasm who aspired to be smart to make music anywhere they went. Users just specify tools, beats, tracks, and notes to the device via the Music Fingers app (for iOS or Android) that includes a list of choices to pick from that spans all classes. They then slide a finger into the thimble-like device and can tap away to their favorite songs or make their own on any surface whether on a knee or a table or anything they find adaptable. This lightweight wireless device supports freedom of movement and fits any sized-hand.
How to Use?
Put your Music Fingers on; connect them to your smartphone via Bluetooth, select instruments, sampled sounds or loops from the mobile app and begin playing by tapping the triggers.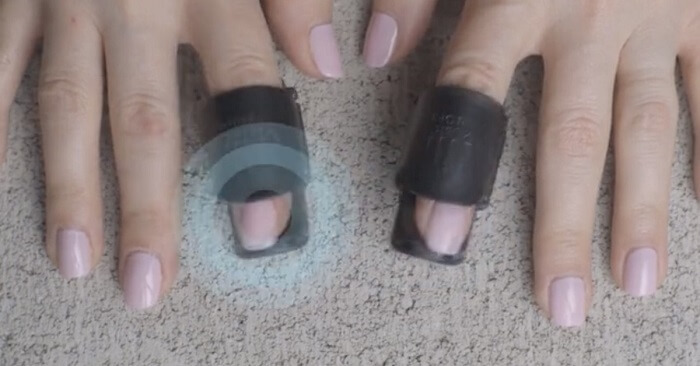 Music Fingers also comes with music making app allowing you to make your own music tracks and to play along with your preferred songs. Pick genres, instruments, loops & sounds and, then, tap your Music Fingers to make beats and to play music. Unleash your fingers on this innovative gadget and make your music talent shine with Music Fingers.
Design and Connectivity
Dimensions: 53 (L) x 25 (B) x 29 (H) mm
Net weight: 12,5 g
Colour: Black
Device Material: Recyclable plastic ABS
Strap Material: Silicone
Compatibility: iPhone (iOS) & Android
Power Supply: 1x CR1632 3V Lithium Coin Battery (batteries included)
Bluetooth Version: 4.2 class 2
Frequency Range: 2.402 GHz a 2.48 GHz
Frequency:1 Mb/S
Features
Adaptable design to any size
Wireless
Total freedom of movement
Durable, longer using time
You can use with headphones
Compatible: iPhone (iOS) & Android
In the box: Music Fingers device + batteries