Well, the expensive phones with gigantic features are out of pocket for most of customers. So, phone companies launched the mid range phone, which have larger market and buying rate in the world. You can say 70 to 75% of population goes for mid ranges phones. Thus, earlier mid range phone launched by Samsung A50 and A30, are re-dressed. Phones are upgraded with new cameras, flashier design and other changes.
Samsung is more or less dependent upon it mid-range phones for the high sales. Thus it introduced new version with the name of A50s and A30s.
Samsung A50 and A30
No coming to the display, the A50s features a 6.4-inch Super AMOLED panel with 2340 x 1080 pixel resolution. With the A30s, however, Samsung has traded a 1080p panel for a 720p one. The A50s sports an Essential Phone-style "Infinity-U" cutout. The A30s, meanwhile, has an OnePlus 6T-style "Infinity-V" notch.
Other than these changes, Samsung is going to offer the A50s in 4 and 6GB RAM configurations. The base model will ship with 64GB of internal storage, with the option to upgrade to 128GB. Meanwhile, for the A30s, it will be there in 3 and 4GB RAM, and 32, 64 and 128GB configurations.
Moreover, both the A50s and A30s continue to include microSD expandability, allows user to add as much as 512GB of additional storage to either device. Both phones also feature 4,000mAh capacity batteries, with support for 15W fast charging.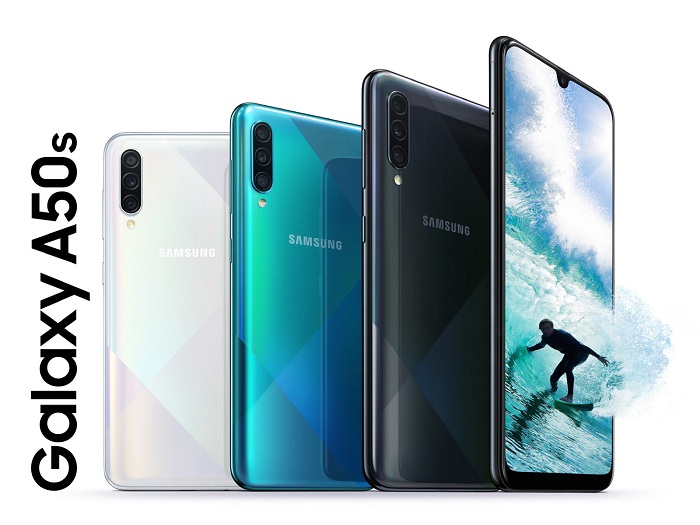 Other Changes
After the launched of its final flagship for year 2019 Note 10 and 10 plus, Samsung has just updated two of its best-selling mid-range smartphones, the A50 and A30. Now with new some upgradations, they are called as A50s and A30s.Thus, Samsung is attempted to make both phones look more visually appealing by adding a redesigned back panel that produces a geometric holographic effect. Alongside the redesign, it plans to offer the A50s and A30s in four imaginatively named colors. These colors include "Prism Crush Black," "Prism Crush White," "Prism Crush Green" and "Prism Crush Violet."
Besides the appearance, the company has also updated the cameras on both phones. New to the A50s' rear camera array is a 48-megapixel main sensor. On the front of the phone, meanwhile, Samsung has updated the A50's 25-megapixel selfie camera to a 32-megapixel camera. On the other hand, With the A30s, by contrast, Samsung has updated the main rear camera to a 25-megapixel sensor, up from a 16-megapixel sensor. It also has added a new 8-megapixel wide-angle lens, giving the A30s a triple camera setup instead of a dual camera one.