From next Year in July to August world will participate in 2020 Tokyo Olympics. Besides the biggest sport event in the world, the next big things are the robots and electric products. Japan is known for its technology and for such reason Toyota goes electric and will introduce 3700 mobility products and vehicles. The official fleet provider Toyota is planning a massive deployment of battery-electric and hydrogen-powered vehicles.
On the other hand, some vehicles, are already commercially available like the hydrogen fuel cell-powered Mirai. Others, like the Accessible People Movers, are being developed specifically for Tokyo 2020.
Toyota Electric Vehicles
So, the 2020 Olympics will have much than sporting event, as Toyota will enhance its hegemony on technology with its electric products. The automaker's stated goal is to achieve the lowest emission level of any official fleet used at the Olympic and Paralympic Games. Toyota will provide 3,700 mobility products for the games, 90% of which will be electric. Among them, out of the 3,700 vehicles, 850 will be battery-electric and 500 will be fuel-cell electric.
According to the reports, it includes hybrids, fuel cell electric vehicles, plug-in hybrids, Prius Primes, and battery electric vehicles. In total, Toyota estimates that the CO2 emissions will average less than 80 grams per kilometer, which is estimated to be half the amount a conventional gasoline and diesel-fueled fleet of this size would produce.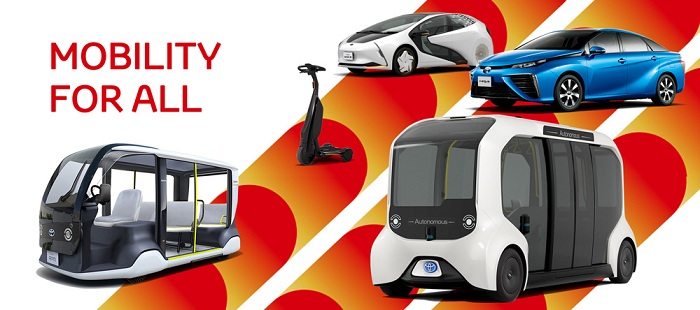 Other Vehicles
In addition, Toyota plans on rolling out two of its previously unveiled (and weirder-looking) concept vehicles: the e-Palette and the Concept-i. Company visualizes these e-Palettes serving a variety of functions. This functions include from usual mobility services like ride-sharing and carpooling, to less typical purposes like serving as mobile office and retail space, medical clinics, hotel rooms, and more.
But for the particular event, the e-Palettes will "support transportation needs of staff and athletes, with a dozen or more running on a continuous loop within the Olympic and Paralympic Village." Toyota claims the vehicles will be "Level 4" autonomous, meaning they won't require a human driver, but will be confined to a specific geographic area.
Last but not least, there will be scooters of all stripes and sizes.The company plans to roll out 300 standing electric scooters, as well as an unspecified number of "sitting-type and wheelchair-link personal mobility devices."