Gone are the days when men feel shy to use beauty products and considering taking care of skin and a girlish thing. Now, men are fully aware of the importance of skincare and are more concerned about their looks. There are many brands and products in the market that are specified for men. Check out this list of best beauty products for men that included almost everything men need to make an impression.
According to Forbes, sales in men's beauty and skincare products jumped 11% in 2017, with a full 84% of male respondents between 18 and 44 telling that they use facial skincare products.
Best Beauty Products for Men
Oxygenetix Oxygenating Foundation
This foundation is specifically designed for men's skin to breathe well when they apply it and the best thing about this product is that it does not make you feel wearing a lot of makeup.
With a 2% salicylic acid formula, it aids to cover and heal acne and extra breakouts, while aloe vera serves to relieve and heal irritation particularly effective if you have razor burn issues. This recipe is supplemented with vitamin E to help repair and strengthen your skin, and you'll love that this foundation stays in spot, even if you go for a sweaty exercise. It's also water-resistant for up to 90 minutes.
Clinique For Men Non-Streak Bronzer
If you are looking to have something sunkissed color rather than coverage, you might need to try Clinique for Men Face Bronzer because it is one of the best skincare products for men.
This gentle formula glides easily onto freshly washed and moisturized skin to provide you that "fresh from a day the beach" look at any time of the year. It gives your skin a natural glowing look, without endangering the hazards of sun exposure including enhanced fine lines and wrinkles.
This formula goes on smoothly and rinses off at night with a simple face wash or soap. This oil-free formula is exceptional for all skin types and conditions and is easy to blend for a natural look.
Evolution Man Conceal and Treat
Every second guy is experiencing the problematic acne-prone skin. This extraordinary concealer from Evolution Man has some tricky pimple action prowess to offer in addition to its capacity to heal all those scars and breakouts. This concealer includes 2% salicylic acid which sloughs off dead skin cells and supports to peel away problems, which fighting the oil that obstructs pores and creates the problem, to begin with. 
This handy concealer is also obtained from vitamin E to strengthen and repair damaged tissues, along with skin-soothing green tea essence. It serves to stimulate healing because of the natural anti-inflammatory effect. This quickly blendable stick serves to reduce under-eye puffiness, conceals delicate lines and wrinkles, and reduces skin blotches and even skin tone.
Black Monster Dual Sided Lip Balm
Men totally love it! It is a combination of skincare and beauty products. On side of this balm is a nourishing chamomile clear lip balm that includes shea butter and six types of oil to moisturize, soft, and keeps lips looking smooth and filled.
On the other side, the cherry balm is fairly medicinal but gives just enough of blush color to make a man's lips look lively and fresh. These revitalizing balms combat dry, chapped lips, with a kiss of panache and they come in safe packaging so no one's the wiser that you're using something that's a huge step above a regular chapstick. 
Fresh Soy Face Cleanser
Every man needs a face cleanser before applying any beauty products or skincare products like moisturizers and serums. 
This gentle pH-balanced soy cleanser from Fresh is a clever choice for different skin types. The lathering spread is formulated with amino-acid-rich soy proteins to wipe away dirt and debris while not shredding away the natural oils our skin relies on. Cucumber extract gives a comforting quality, while perfumed rosewater balances and calms.
Kiehl's Facial Fuel Energizing Tonic
The Facial Fuel series is a favorite Kiehl's line designed particularly for men, and this standout toner is famous for its stimulating results. The formula features caffeine, vitamin C, and vitamin E to stimulate the skin, tighten pores and smooth freshly shaved skin after using a cleanser. The addition of bamboo extract, a traditional ingredient in Korean beauty products, offers anti-inflammatory features and benefits clear dark spots.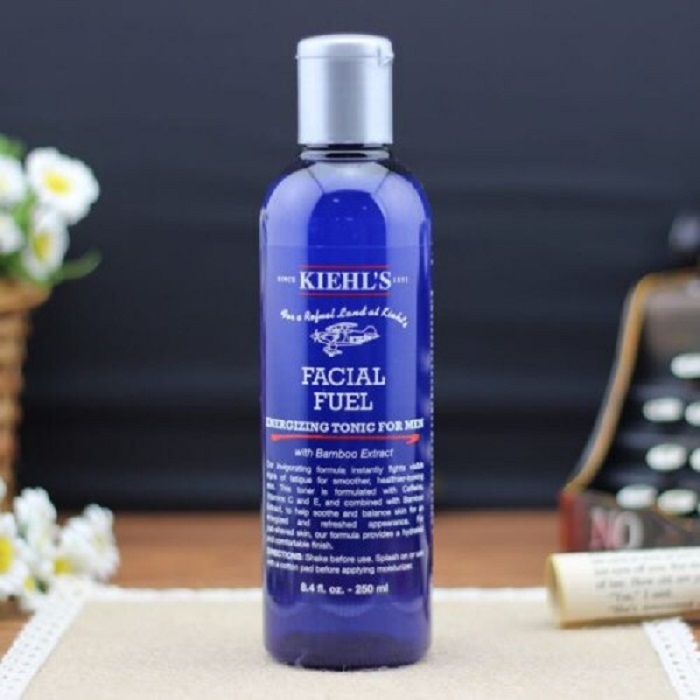 Ren Evercalm Global Protection Day Cream
Keeping your skin hydrated is one of the most critical measures in a skincare routine. And as such, men should moisturize twice daily to keep skin strong, firm and fresh. This gentle, the non greasy day cream is enriched with a compelling blend of antioxidants and compounds (such as seaweed, arctic cranberry seed oil, and candle tree leaves) that attack and eradicate free radicals. The formula gives all-day moisture and sets in fast, so you don't even notice it.