Well for any adventurer and ambitious young man, who wanted to have some peace away from city in hills, need some gears? May be alone or with friends, to a camping site or to just go wild and select the place to settle down. Besides all you carry with you, you need some knives which help you while camping in jungle or deserted.
So, for camping knife, it should be strong, reliable and should have smooth grip. It should also be compact, so that you feel easy to carry it, able to cut, carves for food and bush clearance as well. So, all in all camping knife should be an all-rounder.
MORAKNIV COMPANION HEAVY DUTY KNIFE
If you are looking for knife which really pays for the price, this knife stands toe-to-toe with the best of them. The blade of Morakniv has everything which you need during adventure or camping. The powerful 1/8-inch thick carbon blade coupled with the ergonomic, soft high friction grip handle stand up to the toughest tasks. With the ultra-portable knife weighs just 4.8 ounces and comes with a plastic cover with belt clip to take it wherever you want.
Bear Grylls Ultimate Knife
This beauty has jagged high carbon stainless steel drop point. These outdoor knives are perfect for edge retention and cutting ropes. With ergonomic textured rubber grip, it provides the best comfort and reduces the slipperiness, Stainless steel pommel is at base of handle for hammering. This ultimate blade material is made of 9Cr19MoV stainless steel with blade length is 4.8 inches and have 10-inch overall length. It has 13.7 oz weight with drop point and fine edge design.
BENCHMADE 162 BUSHCRAFTER
This camping knife has got well balanced stainless CPM-S30V steel blade. It offers excellent edge qualities and rust resistance. With durable G10 handle, efficient resistance against moisture and quite stable under extreme temperatures as well. All these features made it the best outdoor knife. The Bushcrafter 162 has a fixed blade; it's a full tang knife, providing greater power and dependability than comparing to the folding knife. The 162 is an innovative, good decent appearance, and you can hold it easily. While the leather case is pretty durable and features a belt loop and D-ring for ultimate convenience. The Bushcrafter 162's drop-point, effectiveness blade style and all-around functionality make it perfect for outdoor activities, for survival use, and even for tactical applications.
ESEE Knives 4P
The 9.0 Inches, with cutting edge length of 4.1 Inches and Blade Length is 4.5 Inches, Blade Width 1.25 inches makes it a might weapon for outdoor. It has 7.8 ounces weight and has a point blade style. Exclusive OEM Saw tooth Design G10 Tri-Color Camo Handle. The ESEE Model 4 is designed to be meant as Tactical, Survival and for Bush-craft Knife. The performance, toughness and quality of the ESEE-4 are matchless by any other knife with its price range. Besides that, it comes under the test many times by military, law enforcement and adventurers all over the world. It has been also carried by special operations personnel in combat or strapped to a hiker backpack as well.
VICTORINOX SWISS ARMY SWISSCHAMP
Victorinox is the original Swiss Army knife. The Swiss-Champ is a hard-core toolkit with 32 various options made of stainless steel all fixed in a cellidor casing. From a small saw to screwdrivers, pliers, a nail file, and the all-important bottle-opener and corkscrew, this will have you ready for anything, in Scandinavian-style. It got the knife as well which is best to you for outdoor activity regarding other gears as well.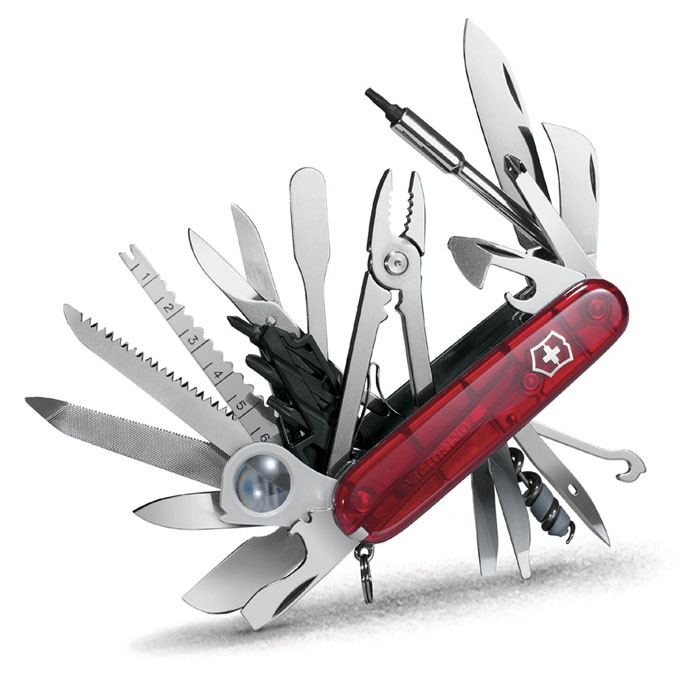 Smith & Wesson SWA24S 7
With its 7.1 inch (18 cm) overall length with a blade length of 3.1 inches (7.9 cm) and has weight of 3.5 ounces make it one the best. When it comes to the durability, the Blade is made of trustworthy 7Cr17MoV Black Oxide S.S. with a black aluminum handle. It has a quick and easy access with pocket clip, index flipper and thumb knobs. It has serrated blades and the blade will not slip with the security of the liner lock.