Being a photographer, there are lot more different things to worry about especially when travelling. For a photographer besides the camera the tool kit is very important. And you have to make sure that your kit is set up for every possible shooting style, job, and outing. Well it becomes much easier with the best DSLR camera accessories. So these accessories will make your work easy.
While talking about best DSLR camera accessories, there might hundred of gadgets. But down below the DSLR camera accessories which will take your burden off and make you to focus on work.
Newer BG-E20 Battery Grip
The Newer BG-E20 battery grip stands to the same staunch standard as the rest of the company's well-built products. It is one of the most affordable third-party grips. The BG-E20 can carry up to two LP-E6 or LP-E6N batteries for extra shoot time. It has a sealed body that mimics the same dust- and water-proof designs found in its adjoining camera body.
The Flashpoint Zoom R2 Thinklite
The Flashpoint Zoom R2 Thinklite TTL is a great middle-range flash. It allows the users with a capable accessory that can bounce, fill, and illuminate with the best in the industry. A 197′ guide number at ISO 100 and 200mm are perfect companions to the system's 2.4 GHz X wireless radio system, which was designed to be utilized alongside Nikon's X1T-N trigger for adaptive effects.
Sigma's 18-35mm f/1.8 DC HSM Lens
Coming to the lenses, the Sigma's 18-35mm f/1.8 DC HSM is the ideal midrange lens for those who want an adaptive experience that can capture anything. On the other hand, it allows wide-angle landscape photography to pronounced details at the 35mm range. While the EF-mount/APS-C formatted 18-35mm has become a mainstay in Sigma's lineup and critically acclaimed.
F-Stop Dalston Camera Bag
F-Stop is one of the photography community's greatest contributors in field of camera bags. The Dalston's unique architecture is the best gear.  The A DWR-treated, 420D Ripstop nylon and TPU laminate keep your prized possessions free of outside interference from the elements. Users do not need to worry about weather or travelling. It has weather-sealed zippers and Hypalon detailing add the durable, quality-of-life attributes for which most shooters yearn.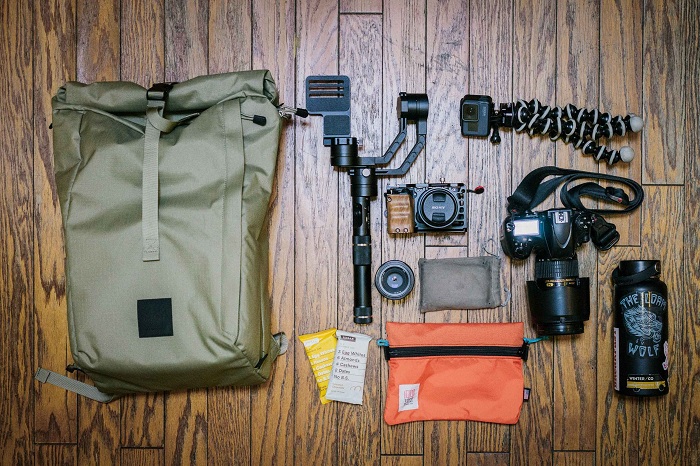 MeFOTO's BackPacker Travel Tripod
MeFOTO's BackPacker travel tripod is a highly-rated, lightweight system, making it the perfect solution for adventure photographers. By utilizing an expandable five-section leg setup, the BackPacker can be folded down to fit in a backpack and even deployed to a height of 51.2-inches. Hence it provides all the reach a travel photographer needs. An Arca-type compatible ball head, nine-pound weight capacity, and separate ball and pan locks allow a wide range of adjustability and leveling capabilities.