The world is getting busier and busier and men are so. But it says that for Monday's, you need to get up fresh to wok better. But the work and its nature don't allow the men to sleep peacefully. Medical science says men need to have 7 to 8 hours sleep but how one can. Don't worry now there are some best sleeping accessories are available. But remember all the sleeping accessories, gadgets and other things are not necessarily behave as you expect them to be.
Well in order t choose the best sleeping accessories, one need to understand their purpose, make and any harmful effects. So, here are some of the sleeping accessories which will help you to have peaceful sleep.
Best Sleeping Accessories
SleepScore App
It is one of the world's most accurate sleep apps, SleepScore requires no sensors or mechanism other than the ones found in the smartphone. This is because it uses the phone's microphone and speakers to track and measure the breathing rate and movement to get an accurate insight into your restfulness over the course of the night.
Bucky 40 Blinks Eye Mask
So, of you don't want to have any sleeping app, and look for an alternative, that is more physical in nature. Then buy a Bucky 40 Blinks Eye Mask. It the secret to a better night's sleep might be as simple as wearing an eye mask to bed. The Bucky 40 Blinks Eye Mask is contoured so it doesn't put pressure on your optics but it still blocks out all ambient light.
Coop Eden shredded memory foam pillow
It is yet another thing, what you defiantly wanted on the bed. The Coop Eden shredded memory foam pillow is made in USA. On other hand, it's designed offer a excellent neck support, cradles the cranium for utmost comfort, and even comes with its own cooling cover besides that,  it's also hypoallergenic and resistant to dust mites, which are a couple of nice bonuses.
.
Philips Somneo Light Therapy Lamp
Philips appears to have figured out how to deal with one of the most frustrating parts of falling asleep and waking back up again. With their Somneo Light Therapy Lamp, you can be slowly lulled to sleep with auto-dimming light. And then at a given time it woes you back freshly.  With a built-in alarm clock function, there are two versions available: a standard manual option and one with smartphone connectivity.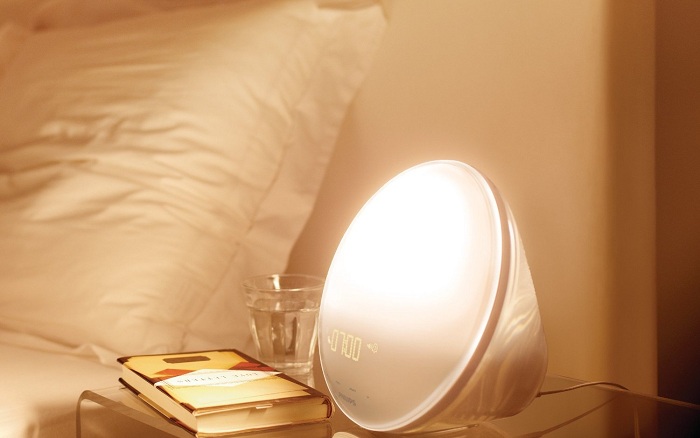 Nokia X Withings Sleeping Tracking Pad
While Nokia and Withings' most famous mashup is probably their exercise-tracking watches, they also offer an excellent sleep accessory in their Withings Sleep tracker pad. This smart device slips between your mattress and box spring. It also performs as a tracking device, monitoring the restfulness, heart rate, movement, REM cycle, and more. But it also functions as a sleep coach and tracking via simple charts and graphs on the included app.