The world is getting smarter and smarter and people wanted to have smart devices as well. So, coming to smart display devices Google Nest Hub and Amazon Echo Show 5 are the best entry level devices. Both smart displays enrich and enliven user interaction. No one is likely to switch between Alexa and Google Assistant because of a single device, but the differences between the Nest Hub and the Show 5 is the real issue.
Smart displays like the Google Nest Hub Max and the second-gen Amazon Echo Show are seeking a similar boom by upping the gamble and slapping a touchscreen on the things.
Google Nest Hub
While, coming to Google Nest Hub with $129 cost $100 more than the original Nest Hub, besides that it has similar, voice-activated Google Assistant smarts plus a bigger screen. But it has better sound quality and the addition of a camera. It's not an ordinary camera; it's an intelligent, face-tracking camera with a 127-degree wide-angle lens.
On the other hand, speaking of controls, user can swipe down on the Google Nest Hub display to open the Welcome Home screen. On the user can view, set up routines, access media, and make announcements throughout the house via Google Assistant-compatible devices. You can do all of the above without resorting to any documentation as well. The Google Nest Hub measures 7.02 inches x 2.65 inches x 4.65 inches (width x depth x height) and weighs just over a pound at 16.9 ounces.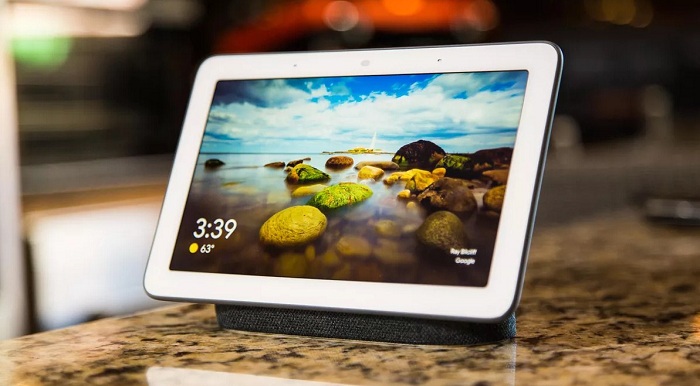 Amazon Echo Show 5
This version is updated and has 10-inch screen improved matters, but it might be the 5-inch Echo Show 5 that helps Alexa-based smart displays really take off. It sits in the middle of the category in terms of screen size, without sacrificing its capability with price of $90. Besides that, The Show 5 also supports announcements. You can say, "Alexa, tell everyone it's time for dinner," and the message will play through every online Alexa device with a speaker in your home.
The Amazon Echo Show 5 measures 5.8 inches x 2.9 inches x 3.4 inches (WxDxH). The Show 5's 5.5-inch diagonal touchscreen has a 1MP camera with a manual shutter you can close by sliding a button on the top edge of the display. In addition to a power port, the Show 5 also has a 3.5mm audio out port for headphones or an external speaker. There are two microphones, volume + and – buttons, and a single button to turn off the mics and the camera.