As the summer is approaching and water sports adventurer are looking to have fun ride. There are many who love to do kayaking during this time of season. So for kayaking, the keen sportsmen look for inflatable and foldable kayaks. So for them, here are some inflatable and foldable kayaks for summer adventure.
The question why foldable, because they pack down small, which means they're easy to store and transport. On the other hand the inflatable kayak operates good most water due to advancements in materials and design.
Sevylor Quikpak K5
Sevylor Quikpak K5 made of 25-gauge PVC with a few skegs, which are similar to a rudder but immovable. While, on the bottom to help with tracking, this inflatable kayak is reliable enough for a riled-up lake or light river paddle. The built-in spray skirt stretches across the cockpit and is an excellent guard against weather and water.
Oru Beach LT
Oru's origami kayaks are among the coolest machine in this category. It is consists of one piece of a custom polypropylene, the same material used on plastic mailboxes that's been pre-folded. Besides that, it features strategically-placed straps, buckles and neoprene fairings, the polypropylene sheet easily transforms into a legit kayak. Well, after kayaking, user can unfold and refold it into a box the size of a large portfolio case, complete with a carrying strap.
Sea Eagle 370
Sea Eagle's company offers the most reliable inflatable kayaks for over 50 years. It weighs just 32 pounds and packs down small enough to carry anywhere. Being with that quality, yet it can fit three people and ferry up to 650 pounds. It's made from a toughened PolyKrylar and all of its seams are welded.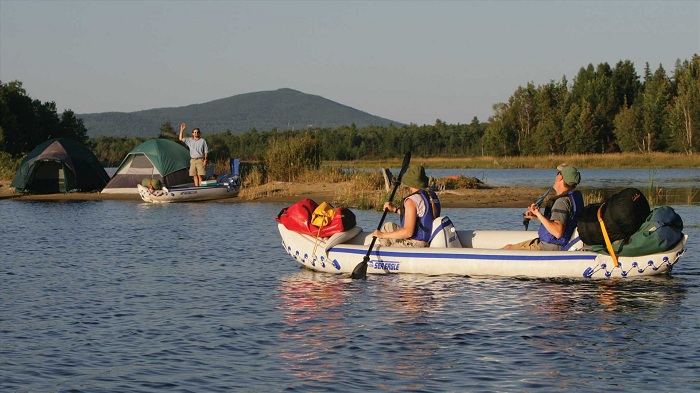 Advanced Elements AE1012
It is a hybrid of a folding frame kayak and an inflatable, this boat packs down relatively well. At 36 pounds, it's a little heavier than others but it performs way above most. The aluminum ribs in the bow and severe to allow more control and tracking in the water. Plus, the construction is top-notch: the boat is made from a triple-layer of polyester material with a double PVC coating. Besides that, it has welded seams, convenient carrying handles, multiple air chambers and the right amount of onboard storage room for long trips.