When it comes to the advancement of science, NASA is one of the most important government agencies ever to have existed .To pay tribute to the agency and their many, many milestones; they've teamed up with Vans to release this 'Space Voyager' capsule collection. Besides that the agency has launched the X watch on 60  anniversary.
Recently NASA has teamed up with Vans and Anicorn to launch the space shoes and the memorial watch. These two styling gadgets have all the things which you want, style, comfort, design and the unique timepiece with innovation.
The NASA X Vans
The NASA x Vans Space Voyager Capsule Collection will include special iterations of the Vans Old Skool and Vans Sk8-Hi. Both models draw inspiration for the design of the spacesuits used by the US space agency. The shoe also pays homage to the Voyager 1 & 2 and Apollo 11 missions. Well this new collection has four pairs of sneakers, two Old Skools and two SK8. This footwear draws its inspiration from the space suits worn by NASA astronauts. The styling of the shoes includes actual John F. Kennedy Space Center branding, removable Velcro patches. It got American flags on the heels of the low-tops and mission patches on the side of the hi-tops and exclusive unbreakable soles. The hi-tops even feature NASA's unofficial slogan, "For the benefit of all," down the back of the heel.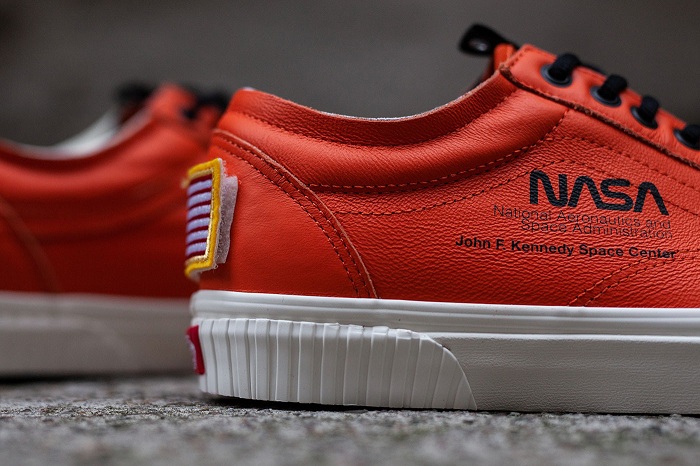 The NASA X Watch
The tribute watch combine's NASA red, white and blue color ways, this watch is built with everything you need. The watch has a Miyota 9015 automatic movement, 316L stainless steel housing, ceramic coating, and convex hard Plexiglas. The timepiece has sapphire and anti-reflection coating, and a one size fits all white textile strap. This is a limited edition watch with water-resistant up to 50 meters. The edition number is marked on the watch movement, and the GPS coordinates of the Kennedy Space Center in Florida can be found on the straps. It also comes with a NASA embroidered patch and a metal warranty card.