Samsung Electronics has unveiled its new consumer solid state drive (SSD) device: the Samsung 860 QVO SSD. It has capacity up to four terabytes (TB) of storage capacity with exceptional speed and reliability Now Samsung has come up with more reachable terabyte capacity. The new 860 QVO SSD allows you gigantic storage option, with firm performance, reliability with extraordinary value. It's all possible with Samsung's latest 4-bit MLC NAND flash technology.
Computer users handling large multi-media content often need to upgrade their PC's storage to improve everyday computing experience. The device is based on SATA interface and 2.5-inch form factor, the 860 QVO is the perfect match for most of the standard laptops or desktops.
The Samsung
As Samsung says, it's time to upgrade or expand to the fast SSD you need. The new line promises excellent performance for the price. The 860 QVO SSD is built on Samsung's 4-bit multi-level cell flash architecture and has a 2.5-inch form factor to fit into most laptops and desktops. The 860 QVO has an MJX controller that can push read speeds up to 550 Mb/s and write speeds of up to 520 Mb/s.
As said by, Dr. Mike Mang, vice president of Brand Product Marketing, "Samsung continues to lead the move toward multi-terabyte SSDs with the introduction of the Samsung 860 QVO, delivering fast performance, reliability and value to more consumers around the world."
According to Samsung, the consumers are using, hence producing and storing more high-resolution files. And this massive storage includes 4K videos and graphics-intensive games. These things raise the demand for larger capacities and performance in storage devices.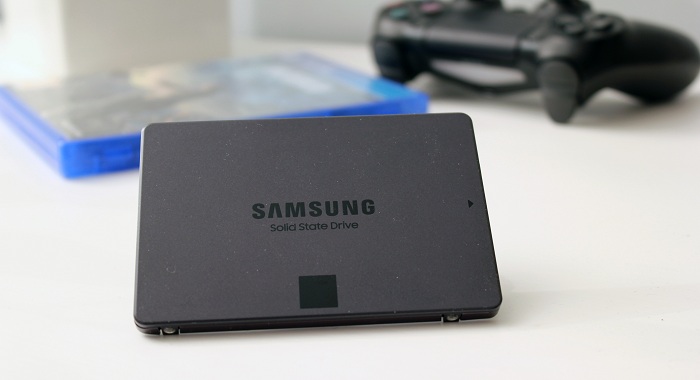 The Performance
Coming to the performance, it has chronological read and write speeds of up to 550 megabytes per second and 520, respectively.  The 860 QVO reaches the same level of performance as 3-bit MLC SSD, with latest 4-bit V-NAND and the proven MJX controller. The drive also has a Intelligent TurboWrite technology. The tech is there to boost speeds while maintaining high performance for longer periods of time.
While talking about reliability, Samsung provides a total byte written based on a thorough analysis of consumers' SSD usage patterns. It gives a three-year limited warranty or up to 1,440 terabytes written (TBW) for the 4TB version, and 720 TBW and 360 TBW for the 2TB and 1TB versions, respectively.
.