In the field of e-bikes, Skoda is coming up with its new Klemet Concept-bike. So, the company is looking beyond current legal restrictions that are limiting the capabilities of today's e-bikes, looking toward a future where the moped, scooter and e-bike categories start to blend together into a new class of electric transport we don't really have a name for yet. At Euro-bike this weekend, the Czech auto company will be displaying its Klement concept, a weird, pedal-free e-bike with a novel control system.
It has bicycle-like wheels but it's not an electric bicycle. Because it has accelerator and brake pedals, but it's definitely not a car. It is mounted like an electric motorcycle or scooter.
Skoda Klemet Concept e-Bike
While coming to its technicalities, there's no suspension, though – it's a rigid frame that relies on its medium-fat Schwalbe Super Moto-X tires for bump absorption. Now, speaking of the specs, it has no pedals, just a pair of leaning footrests. Tilt them forward, and the bike accelerates. Tilt them backwards, and regenerative braking kicks in.
On the other hand, tilting them completely back, and the pedals even begin engaging the hydraulic disc brake on the front wheel. And this brake is equipped with ABS to make up for the fact that you won't have much feeling for the brakes through the heels.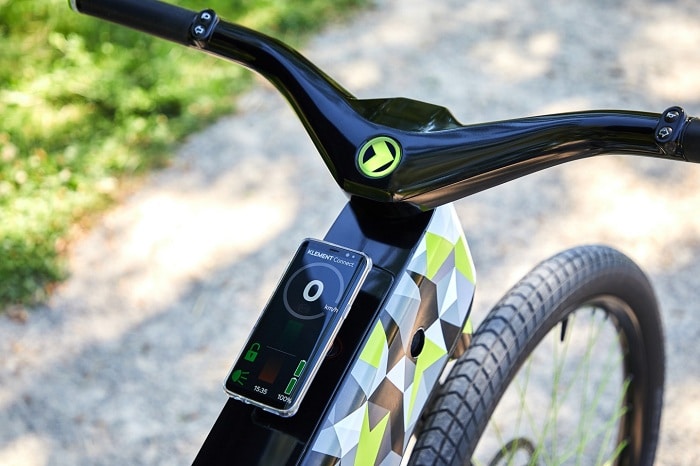 On the other hand, the e-bike is equipped with 4 kW rear hub motor mounted in a single-sided frame member. That powerful motor should provide plenty of acceleration, but the speed is limited to 45 km/h (28 mph). So, this makes Skoda Klement legal in many countries and allows its use without a motorcycle license. Besides that e-bike features two removable batteries that add up to a combined 1.25 kWh. Together they should be sufficient for 62 km (38.5 mi) of range.