If you are tired of the summer heat and sick of sweating a lot, our list of the best backyard inflatable pools will be the right solution for you to cool you down. There's almost nothing better than resting and cooling down in the corner of your yard and yes, it's also one of the ways to make those nosey neighbors jealous too! After Sony's wearable air conditioner, here is our list of best backyard inflatable pools in 2020.
Whether you're looking for a large pool for adults or something smaller for the kids to play in, picking from the wide category of inflatable pool designs can be a difficult task. And this list will help you to choose one. Also check out what do you need for your DIY backyard movie theatre.
Best Backyard Inflatable Pools
Summer Waves Quick Set Backyard Inflatable Pool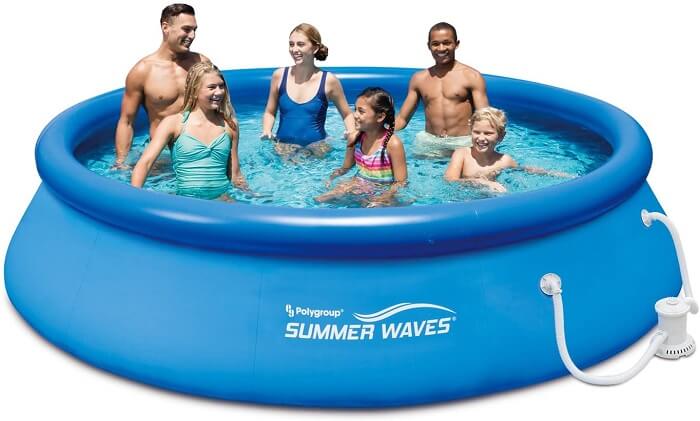 This Quick Set Inflatable Pool by Summer Waves is a distinguished choice if you are interested in buying something ideal for a small family. Its depth of 2.5 ft suggests that kids can stand and reach the bottom easily and adults can soak up just enough water to cool down and relish an immeasurable splash.
Key Features
Measures 8 feet in diameter and it's 2.5 feet deep
The pool increases as it fills for quick setup
Built with three layers of long-lasting PVC
Includes a pool filter pump with GFCI
Includes a filter cartridge with a built-in chlorinator
Excellent for both kids and adults
Homech Child-Friendly Backyard Inflatable Pool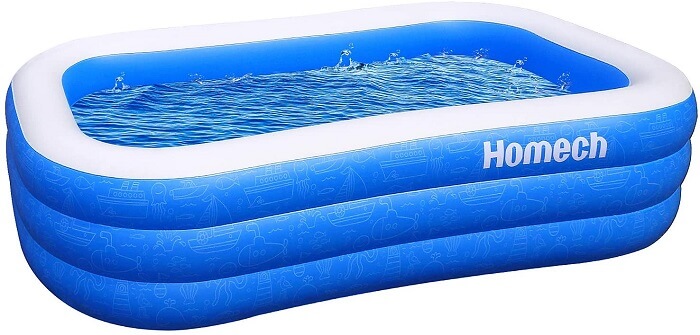 Versatility is this model's ultimate peculiarity. If you're on the quest for something that can support your kids as they grow, then this Homech design will satisfy your expectations. With three different air chambers, you can extend the depth of the pool as your kids get older. While it's not the most reasonable option for adults, the Homech Child-Friendly Inflatable Swimming Pool is big enough to cool down in when seated.
Key Features
Ideally designed for a small family
Inflates in under 4 minutes
3 separate air chambers
Made with 0. 4mm PVC material
Includes a repair kit
Includes a curved drainpipe for quick drainage
Lenakrui 15ft x 36in Quick Set Backyard Inflatable Pool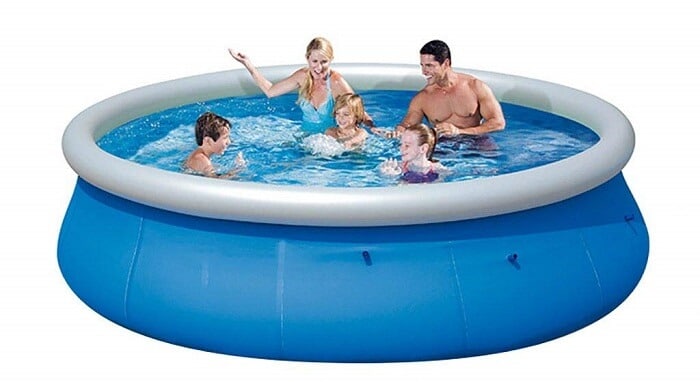 Lenakrui Quick Set Inflatable Swimming Pool can contain up to four large adults easily so you can have your buddies over and it's excellent for a couple of small kids. With a depth of 3ft., it's also fitting enough to teach the kids how to swim. Talking about its strength, the triple PVC layer has got your back. This pool has been well-designed to present hours of splash time at a nearly unbeatable value.
Key Features
Quick and simple to set up
Big enough for adults and kids (measures 15 x 15 x 3 feet)
Comes with a filter pump, chlorinator, and a D filter cartridge
Pump features GFCI for reliable swimming
Made from 3 strong layers of PVC material
Easy to fix and maintain
Sable Backyard Inflatable Pool
Sable Inflatable Backyard Pool is another best backyard inflatable pool that we believe "family-friendly". It can carry up to two adults and four kids in one go and the Phthalate and lead-free material endures powerful play well. With 3 different air chambers, you can increase the pool to a level that befits you. Possessing a no-fuss method, this design is also an exceptional alternative for those on a tight budget.
Key Features
Moderately sized to measure 118 X 72 X 20 inches
Made with lead-free Phthalate materials
Holds two drainage valves
Sets up and deflates instantly
Whitecap reflects the sun's heat
Shallow in depth for kids
Intex Swim Center Family Inflatable Pool
From swimming services and chilling time to effectively raised pools, Intex is a brand that's always presented fun inflatables. The Swim Center Blow-Up Pool lives up to this name and has been created for the entertainment of both young and old. It's shallow enough for adults to sit in and deep enough for kids to swim and splash in.
Key Features
Made from long-lasting 15-gauge vinyl
Measures 120″ x 72″ x 22″ with a 264-gallon capacity
3 separate air chambers
Holds a plug for quick drainage
Inflation and deflation are a breeze
Wide sidewalls for extra comfort