Well the multi-tools are most essential part of men's life, as especially for those, who always keen to go on adventurer. So for adventurer enthusiast, here are some emergency everyday carry multi tools. These multi tools devices are designed to perform a lot of work but take up very little space. And most of tools are so small that they can be place in the pocket. There are a lot of options out there, some emergency everyday carry multi tools are specialized in their design and construction.
Multi tasking or specify task tools are very much important, as they can be user anytime any every. So, every man should carry the everyday carry with them they were made to function under tense, dangerous circumstances
Victorinox Swiss Army Rescue Tool
The kings of folding multi-tool knives with a history that dates back more than a century, it should come as no surprise that Victorinox has built a superb SAK with emergency responders in mind. And while it has plenty of standard inserts that range from knife blades to screwdrivers and more, it also boasts some emergency-specific bits perfect for saving lives. They include a glass-breaker, saws that can double as seat belt cutters, and even a pry bar strong enough to bust open crates.
OKC Model 4 Multi-Tool
OKC Model 4 multi-tool is a no-fuss, no-frills first responder life-saving device. It's made in the USA out of sturdy anodized aluminum, making it both durable and lightweight. It comes with its own MOLLE-compatible nylon sheath. For a quick and easy emergency EDC tool on a budget, this one is solid.
StatGear's T3
Whereas most first responder multi-tools that have a glass breaker tip, almost all of them require you to get some momentum behind it to break a window. StatGear's T3 has a leg up on all of them, however, as it has a spring-loaded version that can punch a hole in a glass pane with 5-7 pounds of pressure from a standstill. It also has a built-in LED flashlight, a fold-out seatbelt cutter, and (of course) a partially-serrated 440c steel knife blade.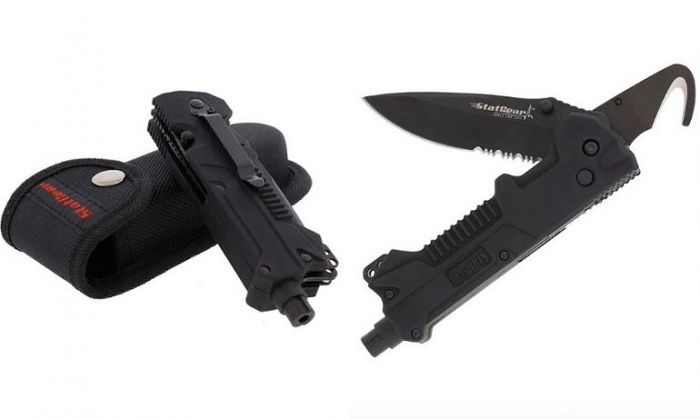 Leatherman's Raptor Emergency Multi Tool
Almost certainly the typical folding emergency multi-tool, Leatherman's Raptor might look like an average pair of clippers. It opens into full-size steel medical shears and includes five other tools: a seat belt cutter, ring cutter (for wedding bands), a ruler, a carbide glass breaker, and an oxygen tank wrench. It's always hard to say that anything is the best of the best, but it might be true in this case.
CRKT Exit Tool
This is the first-responder emergency multi-tool, it could also benefit just about anyone with a car. As it was designed specifically to discreetly attach to your vehicle's seatbelt. That way, if you find yourself in danger, you can simply grab it, cut off your seat belt, and get out. It also has a tungsten carbide glass breaker and a built-in LED flashlight, as addition.