For adventurer the world is not over and limited. Our planet earth has been blessed with enormous kinds of things from big range of mountains to beaches and islands. The world is full of wonders and breathtaking sights. Each one is more beautiful and astonishing than others. The planet got every thing the diverse seasons, beautiful landscapes, mountains, oceans, and rivers. So catching all in one life is impossible.
While talking about wonders of this world, especial the planet earth, its beauty and arrangement is beyond believing. From the Northern Lights of Norway to Amazon Forest of Brazil. You have everything what you want to see with your naked eye. As it says seeing is believing, so here are some of the sights on earth which are worth to be seen before you are a goner.
Northern Lights, Norway
The Northern Lights are formed by a collision between electrically charged particles from the sun sliding into the Earth's atmosphere, forming the harshly gorgeous green lights known as the Aurora Borealis. Native believe the lights to be spirits of the dead passing on to the heavens with the whistling noise of the occurrence being the voices of those spirits. Although it does look supernatural, these wondrous strokes of paint in the night sky are breathtaking.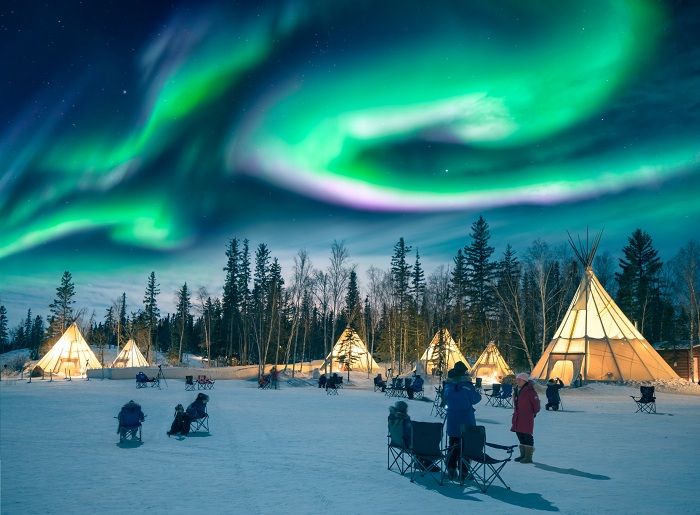 Grand Canyon, USA
The Grand Canyon is 277 miles long, and, at its widest point, 18 miles across. You can explore various areas of the massive canyon at the Grand Canyon National Park. The Grand Canyon overwhelms the senses with its massive size as it plummets to a depth of 6,000 feet. Arizona's legendary landmark is home to 70 different species of animals and it carries a great spiritual significance for the Hopi Native American Tribe who believes it's a gateway to the afterlife.
 Grand Prismatic Spring
America's first national park is surely one of its most glorious. The nearly 4,000-square-mile park is home to more geothermal features, including hot springs, mud pots and geysers, than anywhere else in the world. It was named for its striking coloration in hues that match the rainbow dispersion of white light by an optical prism of orange, yellow, red, green and blue.
Reed Flute, China
There are many sites to see in China, but the Reed Flute Cave is a natural wonder you must experience. Known as "the Palace of Natural Arts," the landmark natural limestone cave features a variety of stalactites, stalagmites, reeds, and pillars throughout the 262-yard stretch. Going your way through the illuminated 180-year-old formations will make you feel like you're on another planet.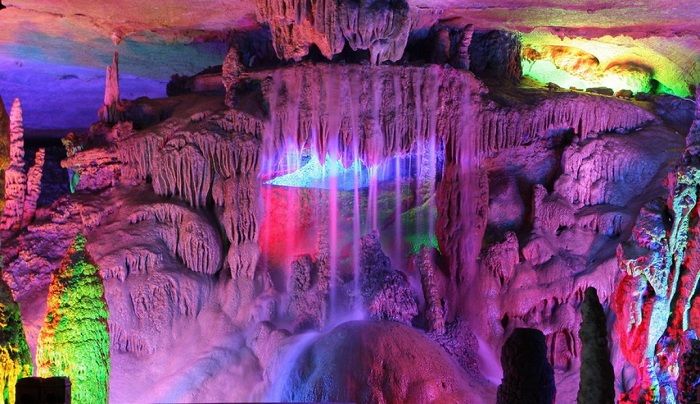 Salar de Uyuni, Bolivia
Resting in the Andes in southwest Bolivia is Salar de Uyuni, the world's largest salt flat. When a prehistoric lake became bone dry, it left behind a desert-like 11,000 square kilometer salt flat. Sometimes there's even a thin layer of water that covers the surface to form a natural mirror, allowing you to feel as if you're actually walking on water. There's about 11 billion tons of salt at Salar de Uyuni, forming a smooth, flat surface.
Zhangjiajie National Forest Park, China
A cinematic hideaway, the Zhangjiajie National Forest Park is the inspiration for James Cameron's Avatar. One of the pillars, originally named the Southern Sky Column, was renamed 'Avatar Hallelujah Mountain.' From the view on the 'First Bridge under Heaven,' the mystical floating rocks will make you feel like you're in an alternate universe, especially when the park is littered with clouds. There are 243 peaks of quartzite-sandstone formations at this natural wonder in China.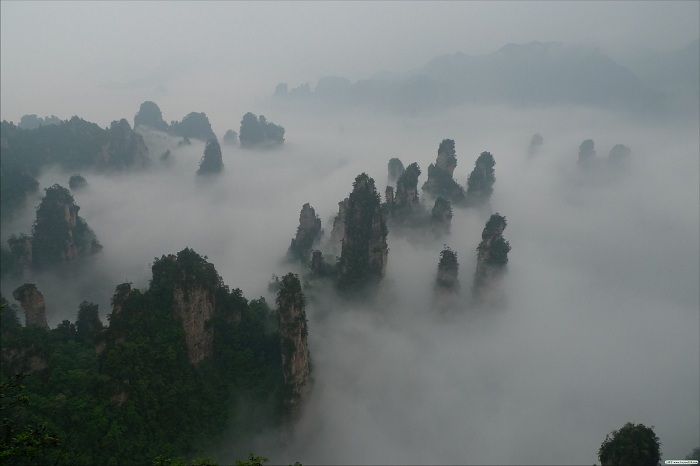 The Galapagos Islands, Ecuador
The Galapagos Islands are a one-of-a-kind destination located 600 miles off the coast of Ecuador. This microcosm of evolution offers some of the best up-close-and-personal wildlife encounters on Earth. Many of the animals have never learned to fear humans. So,you can walk right alongside an iguana and walk quietly among the resident sea lions and the Galapagos giant tortoise. You can also spot Galapagos penguins, blue-footed boobies and flightless cormorants.
Great Barrier Reef, Australia
You've certainly seen photos of this unique natural wonder before, but it's absolutely worth making a trip for. It's the world's largest coral reef, boasting over 3,000 reef systems and hundreds of tropical islands with beautiful beaches. The Great Barrier Reef is also the only living thing on earth that you can see from space. In terms of tourism, it's the perfect place to plan a vacation around as well. Beside the  reef, you can also do snorkel, scuba dive, sail, cruise, whale watch, or swim with dolphins.
The Amazon Rainforest, Brazil
Spanning eight countries, the Amazon Rain-forest is a mythically enormous 5,500,000 square kilometers. You could spend a lifetime discovering the wonders it holds in its 1.4-billion acres of dense forests, which makes up half of Earth's remaining tropical forests. There are 4,100 miles of winding rivers cutting through the lush green land, providing hydration for the plants and various species living there.