Unique building design at its visionary best engages, exhilarates, and inspires. It possesses an unspeakable quality that embodies design ingenuity, connection to place, and, above all, imagination. Anyone, who is creative, will be inspired by famous buildings. The unique designed buildings in the world combine exceptional architecture with intelligent use of materials and the all-important right location. And when you throw a building's history and original purpose into the mix, things get even more interesting.
The world's most famous buildings have influenced creative's from across the globe. Like a photograph, architectural designs record details of specific moments in time. But the physical structures and unique designed buildings go on to have a life of their ow. And  becoming a vital and purposeful part of countless people's lives for hundreds years.
HARPA Concert Hall and Conference Center
Well before its official opening, this gemlike venue breathed new life into the Icelandic capital's once-sleepy harbor, captivating locals and luring visitors with its kaleidoscopic façade of multicolor glass. The crystalline shell, conceived by artist Olafur Eliasson, wonderfully complements the structure's aggregate of jagged, geometric volumes. At night, exterior LED strips activate, transforming the waterfront landmark into a shimmering beacon of beauty.
Gardens by the Bay
Side-by-side parabolic conservatories of glass and steel anchor this cutting-edge botanical garden in Singapore's booming Marina Bay district. It was building of the year in 2012 by the World Architecture Festival. The Wilkinson Eyre–designed structures replicate distinct climates: one dry, the other humid, allowing for diverse attractions like a flower meadow and a misty mountain forest.
The Dancing House, Prague
The Dancing House, Prague's Nationale-Nederlanden building was designed by Croatian-Czech architect Vlado Milunić and Canadian-American architect Frank Gehry. The de-constructivist or new-baroque architecture forms an unusual dancing shape thanks to 99 concrete panels. On the other hand, each panel is in a different shape and dimension.
Metropol Parasol
It is some 90 feet high and nearly 500 feet long, the billowing timber pavilion is part pergola, part urban parlor. Viewing platforms are balanced atop the organic forms, which also shelter restaurants and an archaeological museum. Boasting six parasols and four levels, the design of this structure was inspired by the vaults of the Seville Cathedral and the ficus trees in Plaza de Cristo de Burgos. The underground level is the Antiquarian, where Roman and Moorish remains were discovered during the construction of the structure.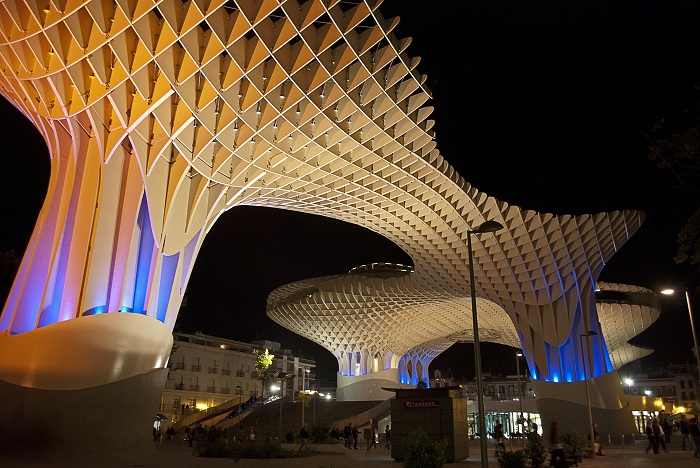 Absolute World
Mississauga, a suburb of Toronto, is like many fringe towns in that it is growing in relation to its neighboring metropolitan area. With continuous balconies and elliptical floor plans, and 56-story skyscrapers appear to shimmy and twist, each around its own axis. At around 734,000 residents, the city is in demand of residential property. To win the first international design competition held in the Toronto area in over 40 years, the architect put forth a radical design for a curving and biologically inspired design.