Men always look to for trendy outfits in every season. And those who care too much about their outfits become conscious when it comes to winter season. Besides this weather make the life terrible and hard to go outside or to walk in nights, it also gives much more variety of menswear's, which keep you warm. Not only that. Men also look for some perfect fragrance regarding the season as well.
So, for all those who are looking for the best jeans to warm, comfortable joggers this season, below there are plenty of wearable's to choose from. These menswear includes the best brands of the world, to make you look stylish and to keep you warm as well.
Levi's 511 Harvest Gold Jeans
The Levis 511 Slim fit Bi-stretch jeans in 'Harvest Gold' are a modern slim fit. It sit below the waist with a slim fit from the hip to ankle. These jeans have just the right amount of stretch for an all-day comfort. Made in a practical gold shade, these bi-stretch jeans are an alternative to your everyday jeans with the same lean look and added comfort. With such kind of jeans, men can have multiple styling options. Not only that, you can pair these jeans with a smart shirt and shoes and sneakers as well.
Calvin Klein One Platinum
Calvin Klein always has been the best fragrance brand for men. But the new CK One Platinum edition, with fruity green apple and cardamom notes and a cool platinum bottle has made its mark. The CK one is described as the strong and dynamic perfume specially made for the winter season. It's warm and luminous ingredients make it the best choice for the current weather.
Hublot New classic Edition Watch
With any argument, Hublot remains the No.1 brand, when it comes to men's watches. Recently, Hublot launched its new Classic Fusion Bronze Bucherer Blue Edition Watch. Isn't it looks damn sexy, moreover Only 30 will be made, and as such, the price is rather heavy, but warranted for such a high-end piece. Anyway, it's this or the new conservatory, you decide.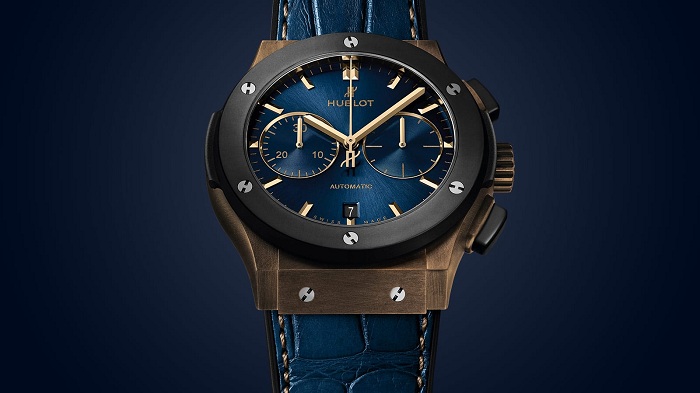 Lined Cord Jacket
It winter, so it time for some trendy and fashionable jackets. Winter gives you the ultimate time to add jacket to your wearable styles. When comes to jackets, River Island Stone Borg Lined Cord Jacket is among the best. The design and stuff that has been use is modern and strong to protect you from the cool and chilly breeze of winter.
Nike Metcon DSX Flyknit 2 AMP
As the winter is making its impact already, and all solution for to protect the feet during jogging or walk comes with this new Nike elite joggers. Nike Metcon Flyknits are super light, very comfortable and super stable. They'll keep you up on your two feet while those painful walking will stay away.