In this connected world, a forced separation from your smartphone due to lack of charge can feel like an unexpected breakup. World continues to become more dependent on technological devices to beat our daily tasks. The most everyday carry gear is focused on the type of independence that doesn't require a power cable. The reality of our need to connect is all too often unavoidable. While charging cable or small power device for your phone, computer and other things are gone off. Now it's time to use keychain chargers.
So, you don't need to go to your car for mobile charging. Neither needs you to carry on the phone charger with you nor the power cable. What you need is only the smart keychain chargers. The addition of keychain chargers or cable is the best solution for power outrage.
Incharge Keychain Cable
Forget about other cables, get used to InCharge's small keyring charging and data transfer cable. These tangle-free cables feature a strong N52 magnet system to close onto your keyring, folding down to 1.5 inches. They are small enough to add to your king ring and forget about until you need it. They make charging your smartphone using the USB connection as convenient as reaching for your keys.
Fuse Chicken Titan Loop Keychain Cable
The strong styling, including flexible metal tubing, will appeal to industrial and outdoorsy types alike.  The 9 inches of cabling ensures that you'll never have trouble connecting your phone to a USB port for charging. You can loop it through your belt or backpack strap to easily cart attached keys.
Nomad Key Charger
This keychain charger is the fact that it's shaped and sized like a key, making it relatively easy to camouflage among your actual keys.  Slim and lightweight, Nomad's Key charger offers a minimalist design that won't add bulk to your pockets. It also features a flexible middle, so you can easily plug and charge.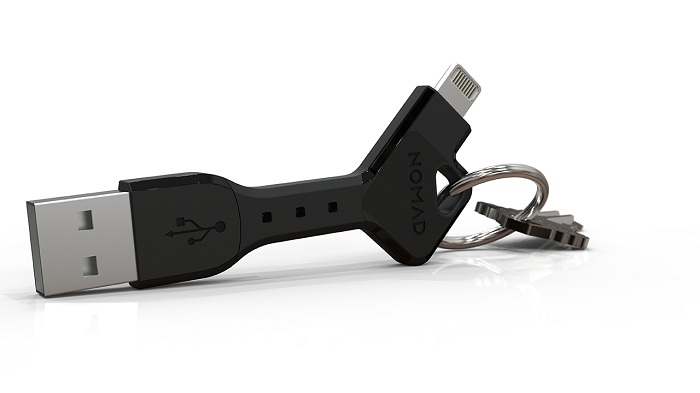 CulCharge 3-In-1 PowerBank
If an extra source of power is what you need to access while out and about, this 3-in-1 powerbank, charger, and data transfer device from CulCharge will get the job done well. Claiming to be the smallest and most powerful charger and data cable on the market, the 4.2oz provides 1,000mAh of charging power for all of your Apple Lightning devices like iPhone, iPad, and iPod.
PopCord's Keyring Charge Cable
If ultimate portability is important in your keyring charging cable search, then you need Popcord's Micro USB and Apple Lightning cables. These nickel-coated premium rubber connectors are 2.5amp-ready, high-speed solutions for your on-the-go smartphone charging needs. When folded down, it measures at a meager 2.67" which is hardly noticeable on your keychain. These cables are available in multi colors.