The biggest issue for motorcyclists around most parts of the world is the safety. For that bikers need best motorcycle locks. But these locks should not be ordinary one, because only the highly heavy duty lock will serve the purpose. For those of who live in the city and lack private garages, storage areas, and parking lots, faces more theft issue. So, your motorcycles need such locks which should protect them in streets.
For the protection, bikers need best motorcycle locks. So, heavy duty chain locks, alarms, disc locks, and grip locks will only reduce the chance of theft.
YOHOOLYO Disc Lock Alarm
The YOHOOLYO's disc lock and alarm is among the options for security and supreme outdoor protection. Utilizing an ear-piercing 110dB audible warning and a well-designed 7mm locking pin that allows for 360-degree disassembly, the disc lock is far more manageable. With a minimal design orientation and intuitive layout combine with YOHOOLYO's waterproof, corrosion-resistant construction. And its alarm will notify if someone is trying to steal the bike.
BULLY LOCKS Grip Lock
Bully Locks' grip lock, securing the cycle and preventing movement through positive handlebar/brake lever depression. It comes in multiple iterations depending on the motorcycle's grip size, as well as variable brake lever lengths. The Bully grip one of the most effective offerings and due to its memorable handlebar/brake design. The Bully grip lock is made from hardened steel and features reinforced nylon housing for additional durability.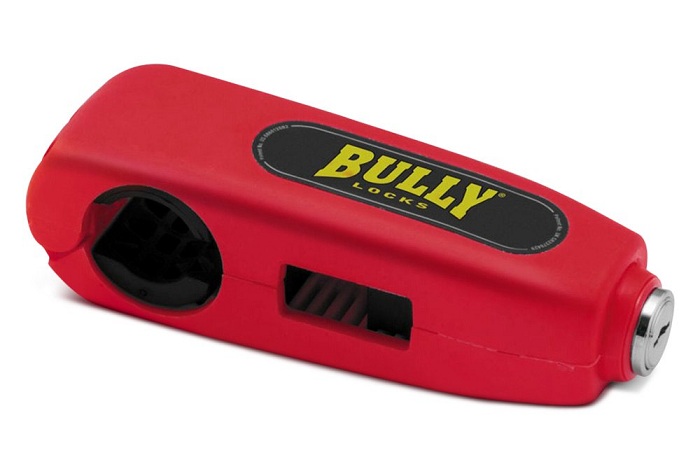 XENA XX-14 Disc Lock with Alarm
Xena's XX-14 disc lock is touted as one of the highest-rated security measures in the industry and comes complete with an ear-piercing 120dB anti-theft alarm system that's sure to deter any would-be thief from obtaining your cherished cycle. The alarm system is powered by a long-running CR2 Lithium battery, and alongside the deafening tone. A high nickel-content stainless steel mono-block construction provides a durable, long-lasting outline.
Kryptonite New York Fahgettaboudit Chain Disc Lock
Kryptonite the New York Fahgettaboudit Chain disc lock is an amalgamation of the company's most prominent technologies. It has a 14mm six-sided chain links and a maximum security New York disc lock that's been outfitted with a 15mm MAX-Performance steel shackle for the ultimate in cut-proof protection. The links of the chain are created using 3t hardened manganese steel, a durable, effective metal that's been tested for efficient use.