Though the best moisturizers are a great thing to add to your facial skincare routine, it could be helpful to go one step further and substitute this ordinary stuff with the best SPF moisturizers for men. There's no such thing as too much protection, and even in case you might not be in the sun all day particularly when you're in the office or at home, you still need sufficient sun protection to decrease the risk of sun damage to your skin and body.
A moisturizer with SPF is an all-in-one solution to keeping your skin hydrated while also guaranteeing it shields you outside.
Best SPF Moisturizers for Men
Anyone who works outside or likes spending time in some outdoor activities shouldn't forget to add a moisturizer with SPF to their daily routine.
Jack Black Double-Duty Face SPF Moisturizer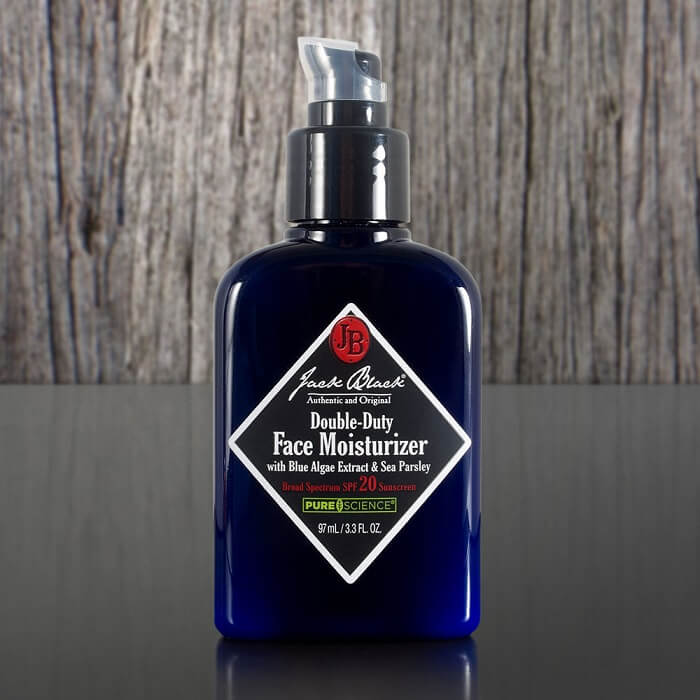 Covering a variety of bases without paying too much attention to specific features, the Jack Black Double-Duty Face Moisturizer is our top-notch choice for the best SPF moisturizers for men you can buy. It features a lightweight formula that's completely oil-free and also possesses essential elements including Rosemary, Vitamins A and E, and Blue Algae.
Features
SPF 20
Lightweight formula
Broad-spectrum
Lasting hydration
Oil-free
Natural ingredients
Vegan-friendly
3.3 Fl. oz
Neutrogena Triple Protect SPF Moisturizer
The Neutrogena Triple Protect Face Lotion is a moisturizer that also allows SPF 20 for fair-skinned (but not extra fair-skinned) guys and gives comfortable hydration and anti-aging effects. Another broad-spectrum alternative, it protects you from A and B UV rays and is fitting for a variety of conditions while still presenting exceptional results.
Features
SPF 20
Broad-spectrum
Non-greasy
Light formula
Calms razor burn and irritation
Anti-aging
No clogging or stinging
1.7 Fl. oz
CeraVe Facial SPF Moisturizer
If you're a fair-skinned fellow and want a little more extra protection as you go out to the construction site or are just intending to meditate on the beach during the blazing days of summer, CeraVe's Facial Moisturizing Lotion could become your go-to option. With an SPF 30 rating, you can rely on it to shield you better than the freely reckless 20 SPF options, while also feeling satisfied with all-day hydration and a long-lasting formula that only needs a single-use each day.
Features
SPF 30
All-day hydration
Essential ceramides
Broad-spectrum
Patented technology
No clogging
Long-lasting
3 Fl. oz
Cetaphil Daily Facial Moisturizer with Sunscreen
The Cetaphil Daily Facial Moisturizer with Sunscreen is the ideal approach for vampires, hermits, and redheads to defend themselves from any sun exposure even if they're only out in the sun for 30 seconds. Possessing an SPF 50+ (yes, plus) rating, it's the only remedy you need for assuring you look like you don't even know what the sun is or where you could find it if you needed to, and it gives a huge 8 hours of protection, so if you want to rest on the seaside all day, you can do that with no worries.
Features
SPF 50+
Pack of 2
8-hour nourishment and hydration
Formulated for face
Fragrance-free
Non-irritating
Non-clogging
1.7 Fl. oz
Nivea Men Maximum Hydration Protective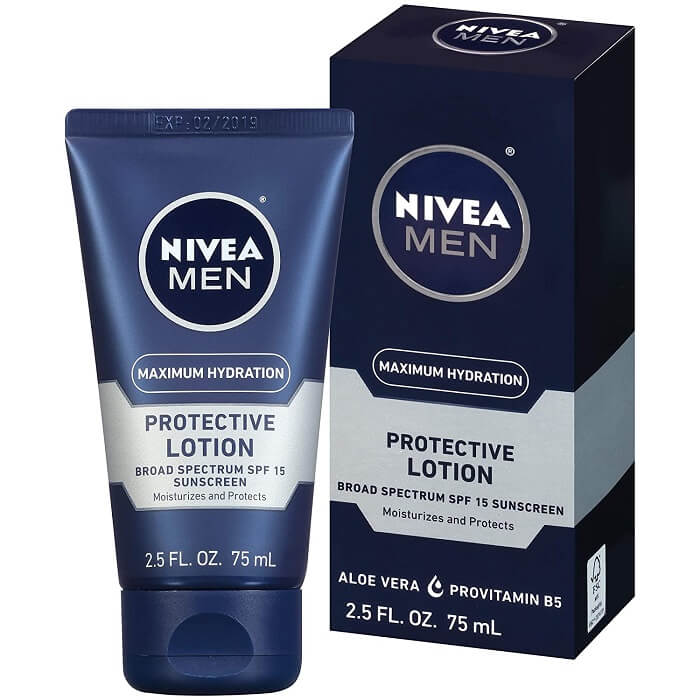 The Nivea Men Maximum Hydration Protective Lotion is an excellent option, particularly if you're going towards preserved and healthy skin while also attempting to keep on a budget. It releases tight, dry, and burned skin and renews it back to the bright joy you've become habitual to, and it performs this through a blend of Provitamin B5, Vitamin E, and that enchanting Aloe Vera to assist relieve skin back to fighting fitness.
Features
SPF 15
Pack of 4
Relieves tight, dry, and burned skin
Enriched with Pro-vitamin B5, Vitamin E, and Aloe Vera
Long-lasting
Oil-free formula
Non-clogging
2.5 Fl. oz