The 2020 Mercedes-Benz EQC is first electric car, equipped with luxury and range. The Mercedes EQC is a curvilinear SUV that span the line between compact and midsize proportions. It rides on the same 113.1-inch wheelbase as the compact GLC-Class crossover, but it's a little longer overall. The expert says that it's also the start of the new EQ product and technology brand. And every other automaker will follow its footsteps for their future cars
While talking about its outlook and inside, its front air intakes and the continuous light bands up front and in the rear look futuristic. Whereas the flanks are extremely smooth, the roofline is "faster" and lower than the GLC's.
2020 Mercedes-Benz EQC
The car is futuristic, ultra-clean lines look very different from the aggressively, chiseled Audi E-Tron. There is even an AMG package, which is purely cosmetic. On the other hand, user can have vehicle with 21-inch wheels; in the standard trim, you get 19- or 20-inch wheels as well. In addition to a cabin, the apparel-and-leather seats are luxurious. The round vents have been replaced with vertical airways accented in rose gold.
Now the infotainment system is up-to the mark, Mercedes' astonishing MBUX infotainment system is on display. It also got an EQ feature for electric cars, and the voice assistant has been updated accordingly. Besides that, MBUX in the EQC has the ability to find charging locations along a route, in the car and through the companion iOS/Android app. Speaking of navigation, it comes standard on every EQC, as do Apple CarPlay, Android Auto and a Wi-Fi hotspot.
Being an electric car, the 2020 Mercedes- Benz EQC supports fast charging up to 110kW. So, you can continue your journey without any trouble. Despite that, Mercedes is aiming to have a payment partnership with about 80 percent of the charging stations in the US and Europe.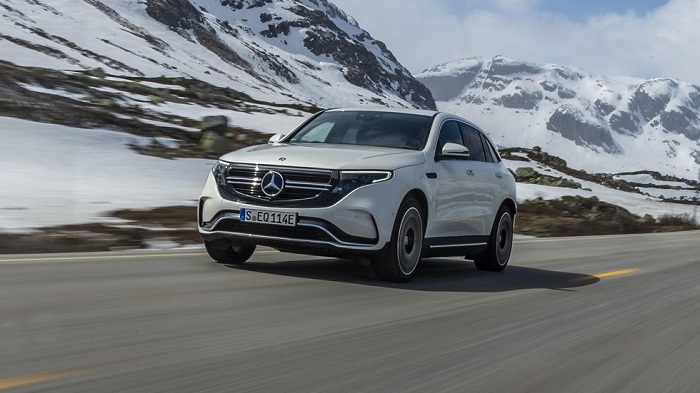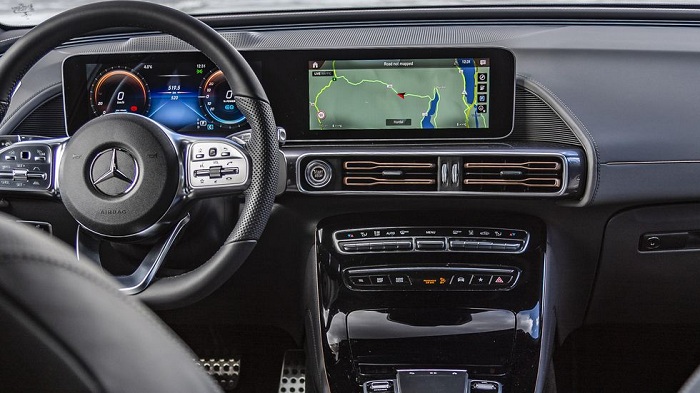 The Power
This electric car is luxurious but its engine is also powerful. The EQC 400 4Matic combines the fun torque of an EV with the posh driving style of a Mercedes. It has 402 horsepower and 564 pounds of torque and can hit 60 miles per hour in 4.9 seconds. Other than this, the 4Matic all-wheel-drive system, powered by two electric motors makes it ideal for all terrain drive.
Mercedes added four levels of motor-assisted deceleration, from pure coasting to the most aggressive setting that allows for one-pedal driving. According to Mercedes-Benz official details, it has range from 445 KM to 471 Km with a charge.