When it comes to the power, racing attitude and style in cars Porsche is among the best. Recently, 2020 Porsche 718 Cayman GT4 and 718 Spyder flaunt 4.0 flat-six has been launched and fans are excited to have them. Arriving with the biggest horsepower numbers of any 718 series to-date, the coupe and convertible each use a new 4.0-liter flat-six engine. So, the Cayman GT4, and the Spyder is back. This time they're called the 718 Cayman GT4 and 718 Spyder respectively, and the mid-engine Porsches packs with more muscles.
The GT4 is a pretty impressive aerodynamics package. It wears a towering rear wing, and has a much larger rear diffuser than before.
2020 Porsche 718 Cayman GT4 and 718
Before talking about the power, inside the cars there's a 14.1-inch diameter sports steering wheel, with a black center marker added in the GT4. Porsche has trimmed the gear shifter, too, making it 0.39-inches shorter than in the regular 718. Sport Seats Plus. While, with extra side bolstering and Alcantara trim in the middle are standard.
Other includes features are the air conditioning and the Porsche Communication Management (PCM) infotainment system. Plus it is with Sound Package Plus, although you'll have to pay extra for navigation, Porsche Connect, or Apple CarPlay.
Other exterior changes include a front spoiler lip with recessed model designation, a central air outlet ahead of the front luggage compartment lid, and tinted taillights. There's a new diffuser around the new sport exhaust system, and a new, manually adjustable rear wing on the GT4. Now the pricing, the 718 Cayman GT4 has a price $100,450, it includes the $1,250 delivery charge. The 718 Spyder is a hair cheaper at $97,550.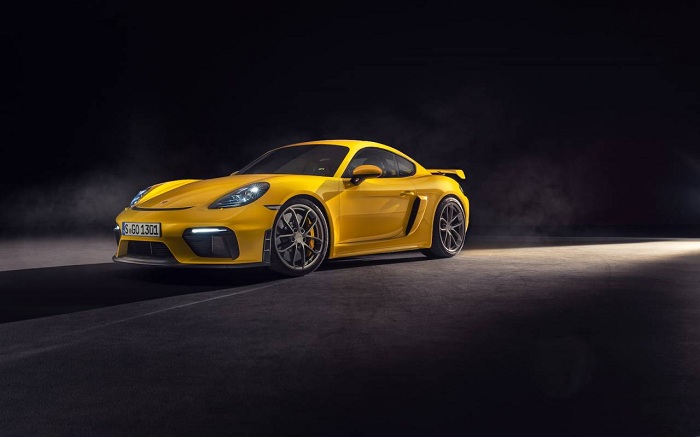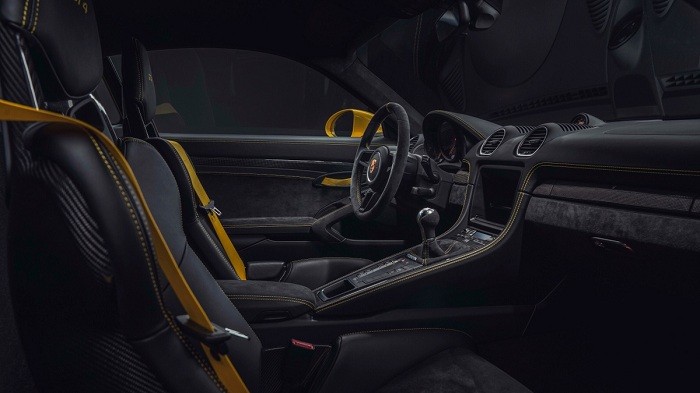 On the other hand, the cars are equipped with a six-speed manual transmission, which can automatically rev the engine for smoother downshifts. Given enough space, the GT4 will reach 188 miles per hour, while the Spyder isn't far behind at 187 mph.
Porsche Active Suspension Management (PASM) is included, with the automaker's clever adaptive dampers. There are also helper springs on the rear axle, and ride height has been dropped by 1.18 inches over the standard 718 Boxster and Cayman.
While coming to the powerful aspects, both cars now send 309kW and 420Nm to the rear wheels. Besides that both have an 8000rpm redline, and the only transmission on offer is a six-speed manual. The top speed is 301km/h in the Spyder and 304km/h in the GT4, and both will hit 100km/h in 4.4 seconds from standstill.