Well, people heard of 2 wheels and 4 wheeled electric vehicles, but now Arcimoto starts delivering three-wheeled electric FUV to customers. After some time, the company comes up with its new 3 wheeled fun utility vehicles and begins delivering them as well. So, it likely to happened that in next few days these electric vehicles will be running on the roads of different U.S cities. Basically, it is designed to decrease the CO2 emissions but also to take up less space than the typical EV. The result is something between a car and a motorcycle.
The two-person three-wheeled electric reverse trike has been 12 years in the making. Besides that this fun vehicle will be costs $19,900 as well.
Arcimoto Three Wheeled Electric FUV
On the occasion, Aricmoto's founder and President Mark Frohnmayer said, "This milestone is the culmination of 12 years of effort by an incredibly talented team to bring to market a truly affordable, incredibly fun, hyper-efficient, small footprint EV for everyday driving."
The Pilot Series of FUVs marked the transition to semi-automated manufacture of all custom frame and chassis components. And they are completely in-house at the Arcimoto Manufacturing Plant in Oregon.
The SRK comes with a 3 year, 36,000-mile warranty. This fun vehicle has heated seats, with heated grips, a phone mount, and the ability to pair your smartphone to onboard Bluetooth speakers. On the other hand, it has lockable storage, a cupholder, and removable half-doors for some protection against the elements.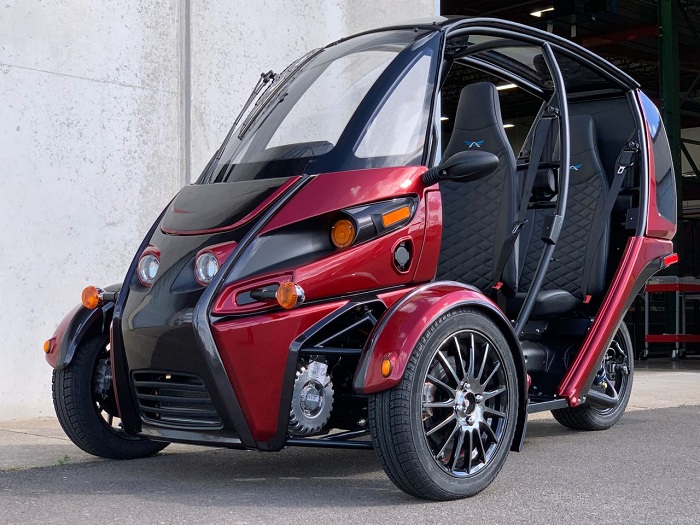 The Arcimoto Evergreen Edition FUV has a top speed of 75 mph (121 km/h) and an estimated city range of over 100 miles (161 km). The Evergreen Edition FUV will come standard with heated seats and grips, Bluetooth speakers, removable doors and lockable rear storage. Other than this, it says that more than 4,000 customers have pre-ordered the FUV.
On the other hand, Customers who decide to reserve an Evergreen Edition will then choose colors. And then make a non-refundable reservation payment of $5,000 to secure their place in the production queue. Besides that, company is hoping to deliver first 100 Evergreens in 2019.