The new Bentley Flying Spur 2020 has been upgraded with more luxury and power. Now, this beauty and beast sedan can go to 207 miles per hour. The company has a long history solidifying its reputation as makers of some of the most desirable luxury cars in the world. So, the Flying Spur badge to create what it believes is "the finest super-luxury sports sedan ever built." While talking about other features, it has Bentley's Dynamic Ride System, a 48V electric active roll control system and three-chamber air springs.
The Flying Spur has all-wheel steering for Bentley, a system that is promised to enhance stability at high speeds and maneuverability around town. It gets a new dual-mass flywheel designed for increased cabin insulation.
Bentley Flying Spur 2020
Coming to the inside, the four door sedan has rich and well placed interior. The 2020 Flying Spur also gains the latest-generation driver aids due to its modern architecture, with traffic assist, city assist, blind spot warning and night vision all available. The centre console houses a 12.3-inch rotating HD touchscreen, alongside a digital instrument display providing a much-needed update in terms of infotainment systems.
Else, the luxury car has three audio systems all the way up to a 2220W, 19-speaker Naim for Bentley package. Well, the redesigned cabin features a new 'wing' design, the option of dual veneers and 3D-quilted leather door inserts for the first time. Not only that it has the three-dimensional diamond quilted leather or wood door inserts, and the diamond knurling on the interior air vents. On the outside, there is cut-crystal effect detailing on the LED matrix headlights.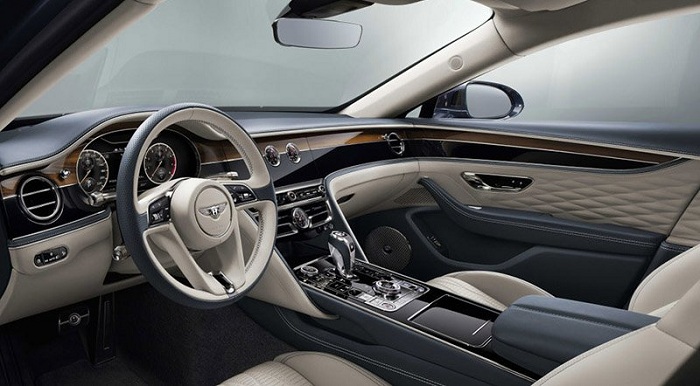 The Power and Other Features
This new grand tourer is equipped with all-wheel-drive and with all-wheel steering. On the other hand, at low speeds, the back wheels turn in the opposite direction from the front wheels, allowing the car to turn in a tighter circle. Besides that at high speeds, the front and back wheels turn in the same direction, which makes for smoother lane changes on the highway.
Bentley revealed the 2020 Flying Spur. It looks like a comfortable limousine, but its 626 horsepower turbocharged 12-cylinder engine can power it from zero to 60 miles an hour in just under 3.7 seconds and carry it to a top speed of 207 miles an hour. Whereas, the next fastest would be BMW's Alpina B7, which can go 205 miles an hour.
The Flying Spur will launch with Bentley's familiar range-topping twin-turbocharged W12 engine, reworked for this generation. The 6.0-litre mated to an eight-speed dual-clutch transmission promised to deliver "smooth and refined acceleration, quicker gearshifts and improved fuel economy".