When winters comes, besides many other dishes, the season always mean for the delicious, yummy and warm soups. During the winter, soup is a perfect way to help the whole family boost their health as it's packed with veggies, meat, easy and budget-friendly to produce. So, soups can be made as quick midweek meals for speedy days or as luxurious dinner party starters that take the hassle out of party prep. Among all other soup recipes, Crock Pot Chicken Enchilada soup is an ideal winter meal. Besides that, you can add other topping as well. So, forget about boring tinned soups and prepare for ultimate flavor and comfort that will add some excitement to those dull winter days.
Only Crock Pot Chicken Enchilada Soup will do in the dead of winter. Warm up with these veggie and meat soups and ingredient that makes the taste better.
INGREDIENTS
2 lb. boneless, skinless chicken breasts cut into thirds
2 1/2 c. chicken broth
1/3 c. cheddar cheese, plus more for serving
1/4 c. heavy cream
1/2 Onion, finely chopped
1 tsp. chili powder
1 tsp. cumin
1 tsp. garlic powder
1 Can (19 oz) red enchilada sauce
1 Can (28 oz) fire-roasted diced tomatoes
1 Can (15 oz) black beans, drained and rinsed
1 Can (15 oz) corn, drained
Sour cream, for serving
Chopped cilantro, for serving
Sliced lime, for serving
Crushed tortilla chips, for serving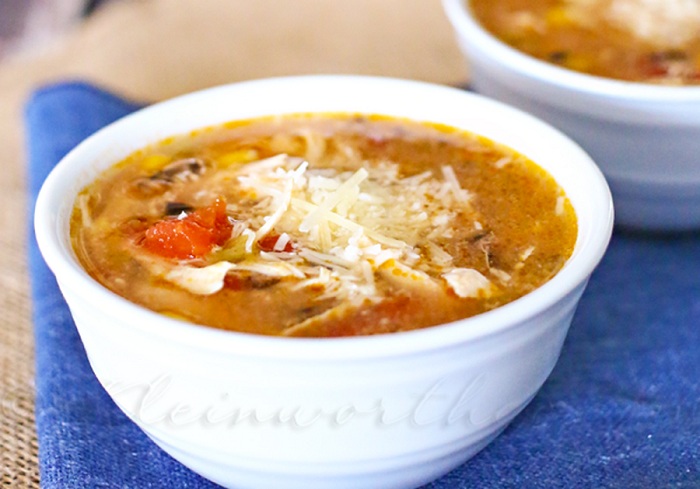 The Method
First of all, mix the onion, spices, enchilada sauce, tomatoes, beans, corn, chicken and broth in the bowl of your Crock-Pot. Then, stir to mix all the ingredients together. Set on high and cook until chicken is tender.
After that, remove chicken from Crock-Pot and shred. Return to pot and stir in cheese and cream. Afterwards, stir and place on low until cheese is melted.
When the Crock Pot Chicken Enchilada Soup is ready, serve into bowls and top with sour cream, cilantro, crushed chips, more cheddar and a slice of lime if desired.