With the era of electrification, automakers are producing the vehicles which are fuel efficient. Thus they are producing more and more electric cars. So, is the case of Kia 2019 Niro EV, which is an electric edition vehicle by Kia motors. This electric-only crossover is an addition to the Niro lineup. Although the earlier versions are includes hybrid and plug-in hybrid models. The Kia 2019 Niro EV not only has a good design but an impressively make effort done by KIA.
The Kia 2019 Niro EV provides four levels of regenerative braking. It can be achieved by using steering-wheel-mounted paddles; the level can be set from Level 0 to Level 3.
Kia's 2019 Niro EV
The Niro EV is a stylish crossover SUV. The SUV has some cool features and outlook. The EV team has worked into the new model, such as full LED head and tail lights, turquoise accents around the bumpers. The Niro EV provides drivers an economical and ecologically friendly means of porting themselves and their stuff through urban and suburban environments.
The Kia Niro EV has Eco, Normal and Sport driving modes. Eco is already pretty responsive. It's hard to make an EV like this feel sluggish with so much twist down low. Sport mode really sharpens the response from the right pedal. It gains and maintains speed with ease. It will push you back into your seat in a respectable 7.8-second 0-62 mph hustle, but it feels even quicker due to sufficient torque and linear acceleration.
Coming to it different a level, in Level 3, pulling the left paddle adds additional braking. Besides that, there is also the only way to cancel the creep function and come to a complete stop without touching the brake pedal.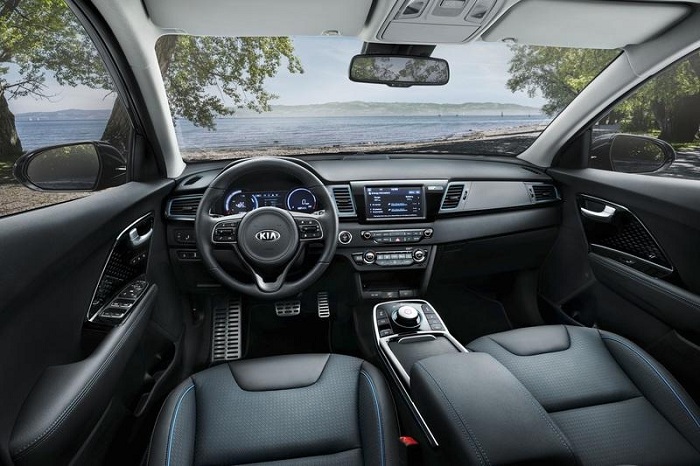 The Electric Power
The Niro also impresses with above-and-beyond elements such as the optional cold-weather package, which includes a heated steering wheel plus a battery heater and a heat pump for the cabin. This electric vehicle has an electric motor that provides an estimated 201 horsepower and 291 lb-ft. of torque. And because of its liquid cooled state-of-the-art battery The Kia 2019 Niro EV has a 240-mile range on a single charge. The Niro also has standard 100-kW DC fast-charging capability. A 7.2-kW onboard charger enables recharge times on a 240-volt Level 2 power supply of 9.5 hours.