The dirt bike known manufacturer KTM is back with its Enduro series. This time the KTM's 2020 Enduro dirt bike comes with new WP XPLOR suspension. KTM has re-energized its drool-worthy Enduro lineup for 2020, with a raft of updated EXC 2-strokes and EXC-F 4-strokes. The bikes use the company's new "Supertrax" suspension technology. On the other hand, for 2020, KTM will offer XCF-W motorcycles once again. These will be similar to the dual-sport bikes, but should be less encumbered with DOT equipment.
KTM introduces the two new dirt bike models the EXC-F and new XCF-W Enduro.  Well, the XCF-W Enduro is particularly made for off-road journey and adventure.
KTM's 2020 Enduro Dirt Bike
While talking about the two new models, it seems that the new 500 EXC-F and XCF-W have very similar updates that the current 450 SX and XC race bikes received. But experiencing carefully, some of the specs are not exactly the same since their performance goals are different. The new chassis is firm, they have new updated plastics, and the engine receives the 15mm lower head as well.
Including the 500, there are five models that KTM has introduce. The models include three two-strokes: 150XC-W TPi, 250XC-W TPi, and 300XC-W TPi and two four-stroke 350XCF-W and 500XCF-W. All of the two-stroke models are fuel-injected even the 150.
According to the company KTM, there are some new changes made to the Enduro line-up. KTM says the new Ws feature updated high-performance engines, new chassis with improved WP XPLOR suspension, and improved handling. Alongside that, the bikes also have new and refine body work, with new air filter boxes, new cooling systems, and new exhaust systems.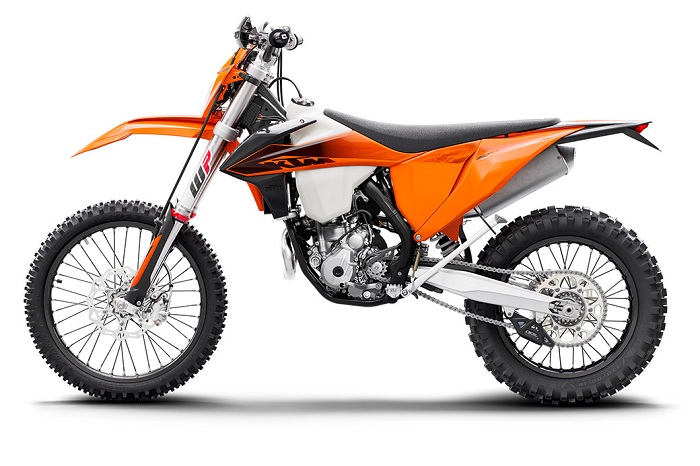 footpegs, and CNC-milled hubs with Giant rims. The XPLOR suspension features "Supertrax" technology that WP has been developing in conjunction with race teams. The main advance here is an additional TXN, or Traction adjuster on the shock.
Well, new oil bypass system in the shock that allows riders to fine-tune both the high- and low-speed rebound damping characteristics for a terrific level of control over your handling.