With boom in mountain biking recent years, it compels industry to manufacturer the bike, more efficient, and specialized bike as well. There are now many mountain bikes for 2019, these ranges from Santa Cruz Hightower C R remain the best mountain bike on the market. Today's mountain bikes are solid, performance oriented, with more grip and blue-ribbon precision on the track.
When comes to the mountain bikes for 2019, there are some hardtail bike, power-assistance bike, and the best full-suspension bike and other.
Santa Cruz Hightower Carbon 29 R Complete
The mountain bike is 29-inch wheels bike, which is covered with carbon rims. Alongside that it offers outstanding precision, and 140 millimeters of front travel .It is advanced mountain bikers due to an excellent combination of speed and handling. This bike takes on burly trails with ease while still traveling comfortably across easier terrain.
The Santa Cruz Hightower C R is truly worth the bang for its buck, especially considering the NX drivetrain and RockShox Revelation. It comes alive at slower speeds, making for an exciting bike for learner riders.  On the other hand, this bike could easily fit into the Enduro category, as well.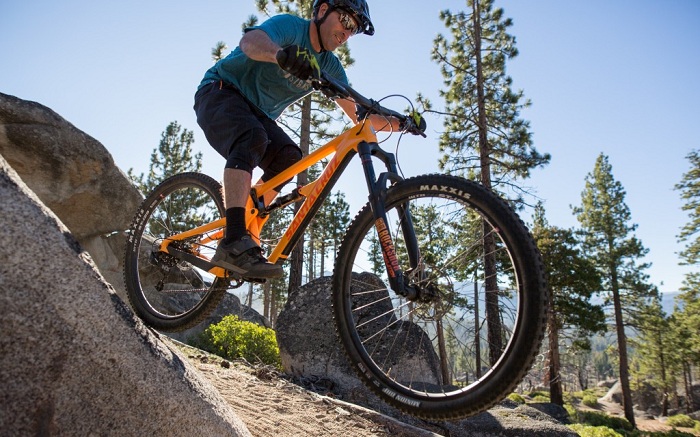 Specialized Turbo Levo FSR 6 Fattie
When comes to the best power-assistance mountain bike, the $4,500 Specialized Turbo Levo FSR 6 Fattie bike is the ultimate choice.  It is part of full-suspension, with spontaneous motorized assistance. The Turbo Levo line of bikes all includes a beast of a motor with up to 530 watts of power. Luckily, the Turbo Levo system uses a backend algorithm to sense your torque, speed, and cadence, then amplifies this sequence for maximum efficiency. These tires increase the total surface friction but with the added Turbo Boost, the increased workload is easily accounted for and then some.
Besides that, the Bluetooth-enabled system also connects user to smartphone through the Mission Control app. This allows you to finagle a range of motor dynamics from acceleration response to increasing turbo. Coming to size and weight, it's not a slim bike; the 18-inch chainstays keep your rear wheel close for the casual wheelie, while the 3-inch front and rear wheel tires add unparalleled traction.