The new BMW M850i Series Coupe celebrated its worldwide market launched at the end of last year. But now this two door BMW series is making its mark in the world. The new M850i is launched as the replacement to the departing 650i. With the push of button start, this new 8 series BMW has different driving modes as well. Like it this giant and powerful vehicle has a sport, comfort, more environment friendly Eco Pro and other modes.
Besides all, it also has more powerful M performance as well. Not only this, but M 850i's structure is a mixture of various metals and composites. With the option of a carbon-fiber roof available for the first time outside of the M cars.
The Design
Although plenty of interior components and the overall design theme are shared with other BMWs, there is still a sense of specialness in the leather-faced steering wheel and the crystal-like gearshift lever, which looks as if it has been pulled from the top of a decanter. The BMW M850i has new iDrive 7.0 System, which has redesigned interface with customizable interactions. Now, with that driver can control it, by touch, voice commands, or with an optional Gesture Control. The 10.3-inch screen that sits at the center of the dashboard and is touch sensitive.
The M850i's 191.0-inch length is 1.8 inches shorter than that of the 650i, while its 111.1-inch wheelbase represents a loss of 1.3 inches. This new 8 series by BMW is heavier with approximately 4500 pounds.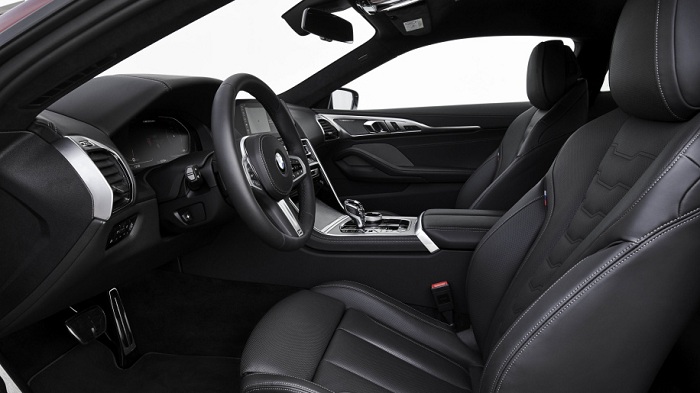 The Engine and Speed
The new BMW M850i is equipped with twin-turbocharged 4.4-liter V-8 engine. And that is tuned to deliver a 523 horsepower of torque. The engine helps exclusively to an eight-speed automatic gearbox, and its output is dispatched to the wheels. So, this claims the series to be a rear-biased all-wheel-drive system. BMW said that the new M850i has a top speed of 155 mph and will hit the 60 mph from 0 in just 3.6-second. On the other hand, drivers claim that its bit quicker than said as well.
The power is 523 horsepower at 5,500 rpm; torque is 553 lb-ft from 1,800 to 4,600 rpm. All that force is transmitted to all four wheels through the everywhere ZF eight-speed automatic transmission. The M850i's torque split is rear-wheel biased and continuously variable, though under certain conditions as much as 50 percent of the engine's torque can be sent to the front half-shafts.