The 2019 Range Rover Evoque has maintained the coupe-like shape of the previous models. The new Rover with the modified waistline and proportionally small windows give the Range Rover Evoque a sporty look. While still beneath, it is heavy and have tighter shut-lines than the version it replaces. The new Evoque's has some most clear new feature is its flush-fitting door handles that pop out when you unlock the car.
The new Range Rover Evoque has taken a rebirth to reflect a modernist design philosophy, setting some new standards in terms the capability and the sustainability. As always it's been made with luxurious interior. Hence with graceful technology, the new Range Rover Evoque is on the roads to make a statement.
The Design
Range Rover Evoque's interior has been designed and crafted to make a sophisticated and desirable outlook. While coming to the interior, a new style introduced 'Velar' with the multiple screens fitted into the dashboard and center console. On the other hand, the dashboard is provided with a thin movable touch-screen. This bright Touch Pro Duo infotainment system has clear focal point, which displays climate control information and seat actions but features chunky dials to operate.
It is equipped with Apple Car-Play and Android Auto and there is a 4G WiFi hotspot and six USB slots located throughout the cabin. This take 5 door Land Rover to another level in form of infotainment and design.
Besides that, there is more which this new Evoque offers are the best tech. it includes the world-first Ground View technology which makes the car bonnet invisible. This is helpful for the drives, when they riding off-road. There is also the 'ClearSight' smart rear-view mirror which can help out if you have a full load obscuring the rear window.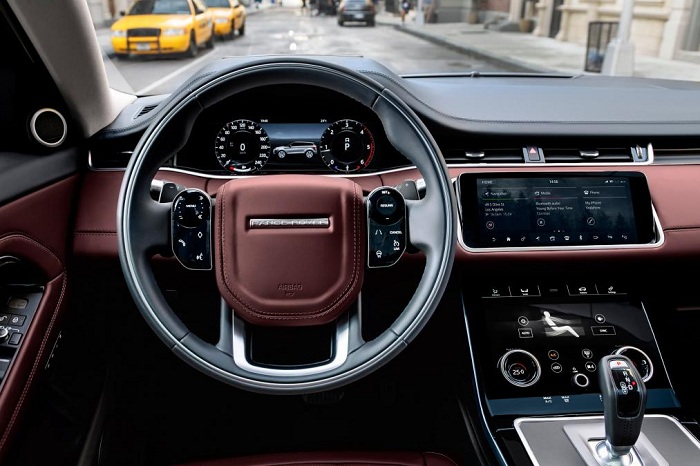 The Power
The new Range Rover Evoque is available in different modes. It has a 48-volt mild-hybrid electric vehicle power-train which takes energy that is usually wasted when braking and accelerating and stores it in a battery under the floor. At speeds below 17km/h (11mph), while under braking, the engine will shut off to minimize emissions.
Other than the hybrid technology, for traditional fuels, the one is D-150 diesel with emissions of 143g/km and 5.4l/100km. while the official fuel economy float just below the 40mpg mark for D180 and D240 vehicles. They get from 0-62mph in 8.8 and 7.2 seconds respectively.
Coming to models available to petrol are, P200, P250 and P300. And all of them offer a useful performance advantage over the top-of-the-range diesel.