Well, while talking about the dressing of salad, there are so many to choose from. So, in order to what kind and taste you want to have in your salad, or what kind of salad you want to eat, below there is carefully made list of dressing. This list contains the salad dressing from the creamy to herbs oriented vinaigrette.
Bolthouse Farms Chunky Blue Cheese Yogurt Dressing
The blue is deliciously best and rich with yogurt to have a creamy look. This dressing is best for using on leafy greens and, of course, any Bolthouse Farms carrot. So, for an occasion or you have mood for creamy dressing, you must use it. With every serving it has 35 calories with 2.5 percent fat ration.
Marie's Balsamic Vinaigrette
This Vinaigrette from Marie's Balsamic Vinaigrette is the fresher of all. Made from extra virgin olive oil, garlic, spices, with brown sugar sweetness and course with the balsamic vinegar, make it the best all of dressings. This dressing is considered as sweet but oily, with its 2 tablespoons, it has 45 calories with 4.5 percent fat on your salad.
Bolthouse Farms Avocado Green Goddess Yogurt Dressing
Well avocados are there to make everything better. This Green Goddess dressing has parsley, basil and fresh herbs, which make it a classic dressing.  Along with non-fat Buttermilk, non-fat milk, Vitamin A palmitate, Yogurt and milk. The one spoon will make the dressing yummy, creamy and smooth. It has calories with 4 % fat in one serving.
Annie's Organic Caesar Dressing
Well this originates from American-Italian immigrant, who made-up the spicy salad when they have no ingredients at his restaurant. This dressing was destined to be decadent — but that doesn't mean it has to be overly processed or complex. Annie's Cesar dressing is full of fats that obtained from healthy fats from olive oil, not from the milk fat. Other than this there are also some Greek yogurt-based versions of Caesar dressing which are being used. It has 110 calories per serving, with 14 percent fat in 11 g per serving, which makes it a fat full healthier dressing.
Kraft Greek Vinaigrette Dressing
Kraft's Greek Vinaigrette Dressing is a heavy dressing. It is filled with sugar and other additives on replacement of fats form it. This dressing is pretty strong, and has 50 calories and 5 grams of fat, with just 1 gram of sugar per serving. The main ingredients of this vinaigrette are the olive oil, water, red wine vinegar, soybean oil, salt, sugar vinegar and other with no preservatives.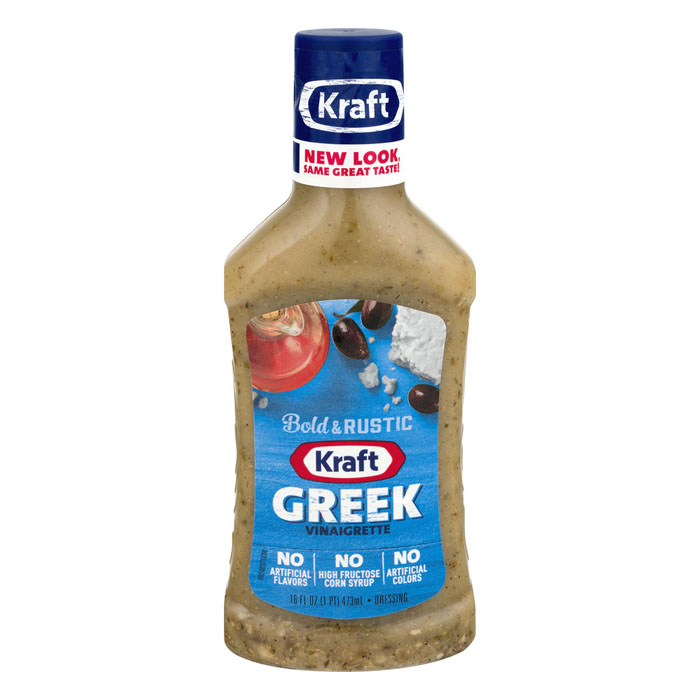 Annie's Organic French Dressing
Well some consider them most underrated dressing; French dressing can be dreamy and creamy. Annie's is great at keeping creamy dressings simple and nutritious. Well the maker says that this French dressing with old and traditional French dressing recipe will make you beret (a French traditional hat) off from your head. It has no artificial flavor, or any synthetic color and with no preservative. The Every per serving, this organic French dressing contains 110 calories, 14 grams of fat.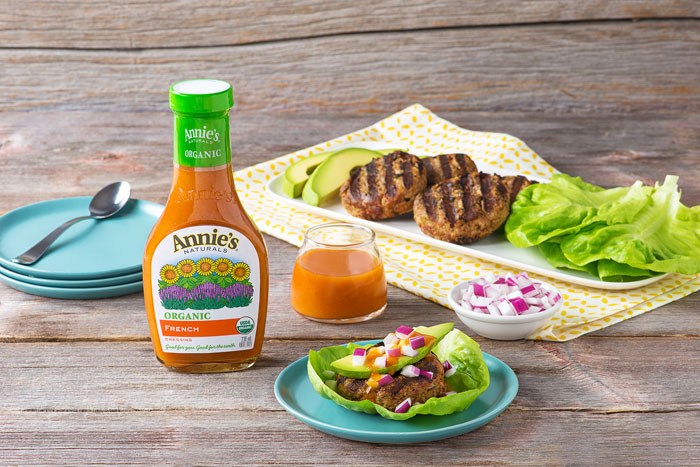 Bolthouse Farms Italian Vinaigrette
Made form tasty extra virgin olive oil, rich tomatoes, white wine vinegar, red peppers, sweet basil, onions, sweet basil, herbs and spices. It looks and tastes Amazing on salads, certainly better on sandwiches or as a marinade. So, this rich with olive oil, smooth vinaigrette has just 25 calories and 1.5 grams of fat per serving.
Annie's Lite Honey Mustard Vinaigrette
Annie's with its low quantity of oil and less ingredient in its lite honey mustard vinaigrette. With 45 calories and 3 grams of fat per serving make you pour all over your salad. This salad dressing come with the Dijon mustard, Sea salt, Expeller-pressed oil and have no artificial flavors, and color and preservative.