Well this time Triumph comes back with a strong punch, it introduces its new beast the Rocket 3 TFC motorbike. It is the biggest, maddest production motorcycle in the world and it's bigger than ever before. The new 2.5-liter Triumph Rocket 3 TFC is a trailer-pulling beast of a thing that'll dwarf anything this side of a Boss Hoss. The limited edition motorbike will only 750 examples and color choice will be black on carbon black.
The first model of that series, the new Triumph Thruxton TFC debuted as a lighter, more powerful and more exclusive version of the Thruxton R.  The Concept Rocket 3 TFC, a full-tilt bored-and-stroked behemoth that claimed an all-new triple-cylinder engine.
Rocket 3 TFC Motorbike
The monster is equipped with a huge new 2,500cc Triumph triple engine and muscular presence. Besides that it has an up-spec technology, a refined design, and an impressive level of premium specification equipment. The Rocket 3 TFC motorbike is Triumph official production glory.
Coming to its special outlook, the beauty and beast undergoes a thoroughly modern electronic makeover. The new and modern tech includes stunning TFT dash, cornering ABS and traction control. Alongside the other features like four riding modes, an up/down quickshifter, tire pressure monitors, keyless ignition and hill start Assist.
Not only the Rocket 3 TFC motorbike an optional Bluetooth connectivity module that handles phone stuff, navigation stuff and even control of a connected GoPro action camera.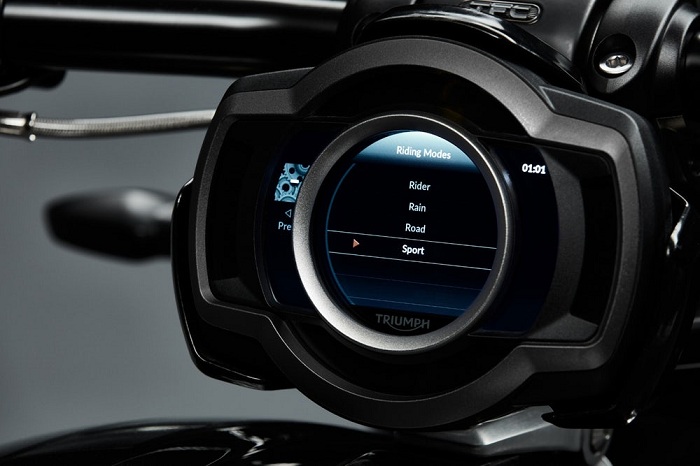 The new engine is both bored and stroked out, each cylinder having a bore of 110.2 mm and a stroke of 85.9 mm, so a wider fist can go even deeper into this bike's guts. On the other hand, with 2500 cc engine, the Torque is thus boosted to somewhere over a gargantuan 221 nm (163 lb-ft). It is significantly more than anything else that's not electric or built to order. While the, Peak horsepower is somewhere over 170 ponies.
The bike is internally wired flat handlebars hover over a flat-ish carbon-fiber fly screen. It also included with other carbon-fiber parts including the front fender, muffler end-caps, exhaust heat shields, drive shaft cover, heel guards, and tank strap. While the other noticeable changes are the twin bug-eye headlights, though they've been reshaped and are now full-LEDs.