For adventurer enthusiast, an ultimate set of ski goggles are arguably the most important piece of ski and snowboarding gear. It's hard to carve out a perfect line when your snow goggles are fogged up or making your eyes water from a bad seal. Fortunately, recent years there are some remarkable new ski goggle technology and innovation to the ski and snowboard world. These new features are there to give clearer, smoother visual to see.
Well having the best wearing ski goggles are most import, when hitting the slopes or launching into your local terrain park. Because, this tiny but important gear will make all the difference while setting a record.
Smith I/O ChromaPop
It seems, in the market there are plenty of ski goggles around varying price and specification. But the Smith I/O ChromaPop is the ultimate choice for number of reasons. It has the unique interchangeable-lens system and is still at the top with excellent optics. These goggles include two lenses, an exceptionally comfortable fit, with big ventilation, and have finest build quality. The I/O keeps its title as the best all-around ski goggle with its excellent ChromaPop lenses. Popular on Smith's sunglasses, ChromaPop offers HD-like color quality that interprets to the slopes with fantastic clarity in a wide range of conditions.
Giro Goggles
Giro's fast-change technology uses self-locating magnets to guide the lens toward the correct position before snapping it firmly into place. That means lenses that are quick and easy to swap out while still providing a fit that grips hard into place and stays secure all day. Other than the amazing interchange lens system, the spherical goggles are loaded with standout features including Expansion View Technology. This tech is there to strengthen peripheral vision, triple-layer face foam with micro-fleece, and an anti-fog coating to blast out moisture and prevent cloudy lenses. These goggles have contrast blue light to sharpen visual clarity and it creates a texture while also blocking harmful UV light.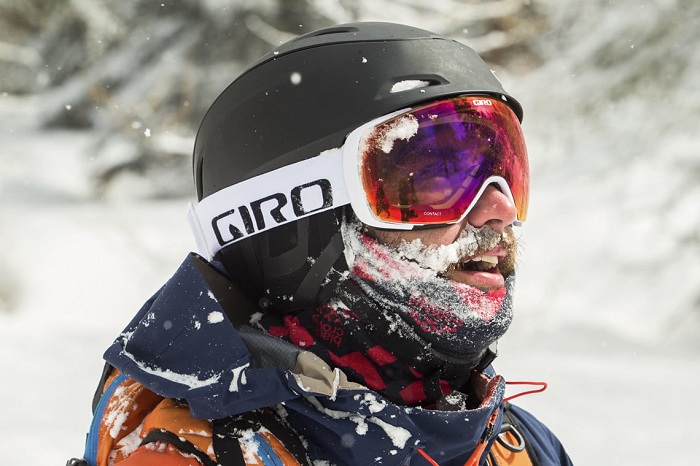 Oakley's Line Miner
These goggles got the ultimate cylindrical Prizm Inferno lens, which is is an incredible option. The technology uses a small battery pack. Besides that, the goggle allows the user to activate the fog-destroying inferno technology. The system essentially defrosts the lens from inside. The battery pack stays charged for up to six hours and keep your face warm in winter and snowy adventurers.  While the technology of Prizm in the lens filters the color spectrum to optimize visibility and improve contrast on the slopes
Shred's Smartefy
Shred's Smartefy is the hell of a goggle that's been popular due to its maximum field of vision with a minimum frame. On top of the Smartefy's snow-globe visuals, the goggles have a hydrophobic anti-fog coating and layered with multi-density face foam. This is there to keep a tight and comfortable fit on the face. On the other hand, user can have cloudless and clear view of the slopes due to foam wicks moisture. Shred's with NoReflect feature allows keeping the balance of inner lens reflection, while the NoDistortion technology equalizes pressure between the dual lens chamber and conditions.