When it comes to Ferrari, especially the modern cars they are really very hot cars. While most of the Ferrari's have a lot of appeal and the GTC4Lusso is no different in that sense. It's the essence of a Grand Tourer with a refined shooting brake design and a big, great motor. On the other hand the soundtrack from that motor that simply cannot be beat. It has a four-wheel drive with a four-wheel steering system to deliver convincingly sporty performance even in very low grip conditions.
The GTC4Lusso is not ordinary Ferrari. It has drastically more powerful or more extreme than anyone can expect. But it is, simply, very different than the other make of Ferrari's. This vehicle is a five-door Ferrari with the capacity for four passengers.
The Shape
The GTC4Lusso has the stylishness and uniqueness, its unprecedented forms underscoring its most dynamic traits in an effortless marriage of sportiness and signature GT elements. Therefore it is designed to produce a cabin that is a flawless triumph of sporty luxury.
Ferrari GTC4Lusso has a new and beautifully balanced Dual Cockpit architecture. It is designed to improve the driving experience for both driver and passenger. The driver and passenger have separate Cockpit by a central divider on which are clustered all of the comfort-oriented controls common to both. The car has new and modified controls, different in shape, function and positioning, with the aim of further improving ergonomics and ease of use.
The Exterior
Well coming to the exterior It is a further refinement of the shooting brake coupe, the car is reinterprets the concept with an extremely aerodynamic, pointed shape that gives it an almost fastback-like silhouette. While, its sporty soul is underlined by the forms and styling of the rear. On the other hand, the roof curve is lowered to provide more space and comfort. It has Ferrari's signature twin rear lights adorn the tail. The dynamically made crease lines produce a diapason theme along the car's flanks, breaking up the optical mass, accentuating the muscular wheel-arch and imparting a sculpted athleticism. The front of the car is subject by a large single grille that for not only for cooling but also lends the car a sense of imposing power.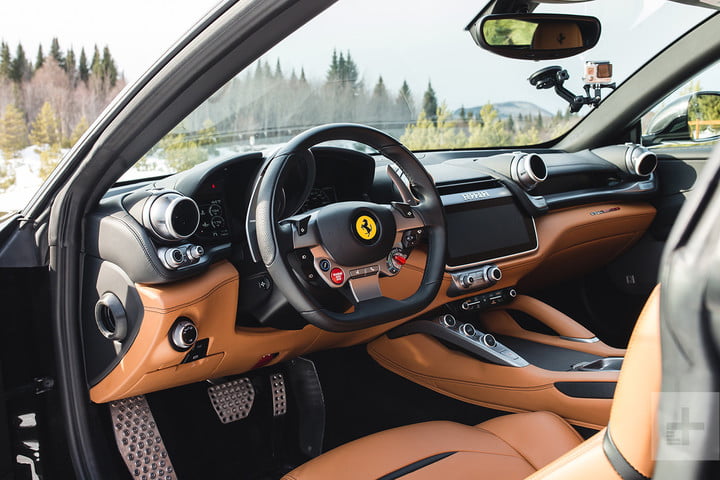 The Engine
The GTC4Lusso impresses on paper with 6.3-liter naturally-aspirated V12, 680 horsepower. The engine produces 514 pound-feet of torque, and a seven-speed Formula 1-style dual-clutch DCT transmission. It also provides the razor-sharp performance of a thoroughbred sports car. It got the maximum speed of 335 km/h and 0-100 km/h acceleration in 3.4 seconds doubling that to 120 mph takes only 10.5. It is quite simply is a insane speed machine.