The art of massage is helpful and in practice around for thousands of years. Though nothing is more soothing than a professional massage at some spa or from a professional, you can still get a lot of the same results by doing it yourself – particularly if you have the best tools to do so. Self-massaging has several health benefits including reduced stress, more normal circulation, and sounder sleep. So we bring you the best massage tools for men that can make your job easy.
You can use these tools to decompress you after a workout, when you get back from the office, or just when you've had a long tiring day. So we have searched the internet to find you the best massage tools on the market.
Best Massage Tools
Exerscribe VYBE PERCUSSION Massage Gun
Talking of the matter of control and application, the VYBE Percussion massage gun has all the required features. With a push-trigger button, operating this device is as simple as pushing a button, while also keeping stress off your fingers. There are up to six massage speeds featured on this gun, each giving intensity with every pulse. Rather than just vibrations, there's a sensation of great blow that digs deep into the muscle and tissues to reduce pain and strain.
Key Features
6-speed gradients
Push-button trigger
3 massage heads
500 to 2400 strokes per minutes
TriggerPoint AcuCurve Massage Cane
The most prominent feature of the Trigger Point AcuCurve massage cane is its constructional structure. This massage machine was intuitively created to meet the physical structure of the body for the release of pain, stress, and knots in the muscle. Moreover, its massage tips provide deep penetration, unlike any other conventional massaging tools. Apart from that, it is pretty efficient at opening tissue knots due to the intensity of stress released from the tip, and the double massage tips on the lower region of the cane were built-in ball shapes to target tight muscles and relieve them.
Key Features
Weighs 0.6 pounds
Drop tip massage head
Double massage balls
Curved ergonomic handle
ZONGS Massage Ball Roller
The Zongs manual massage ball roller is designed in a small and round form to enable users to easily operate it for use. Its ball shape gives an edge for comfortable rolling and for pressure to be used easily. Moreover, it can be done over clothes as the penetrative power is still adequate to reduce pain. Additionally, the Zongs manual massager's ball shape is efficient on all skin types, be it oily or dry.
Key Features
2 massage rollers included
1 carry bag included
360-degree rotation
Hand-grip design
RENPHO Rechargeable Hand Held Deep Tissue Massager
The Rephno Percussion massager is built from ABS plastic regarding its price, yet it has one of the most powerful working gadgets that money can buy. Adequate for personal use, this device relieves pain in larger muscle areas, ranging from the shoulders to the back and even to the soles of the feet. Surprisingly, this massager can reach up to 3600 pulsations per minute, which is pretty sufficient to enter deep tissues and muscles.
Key Features
5 interchangeable head attachments
3600 pulsations per minute
3-speed gradients and 4 intensity options
Thera Cane Massage Tool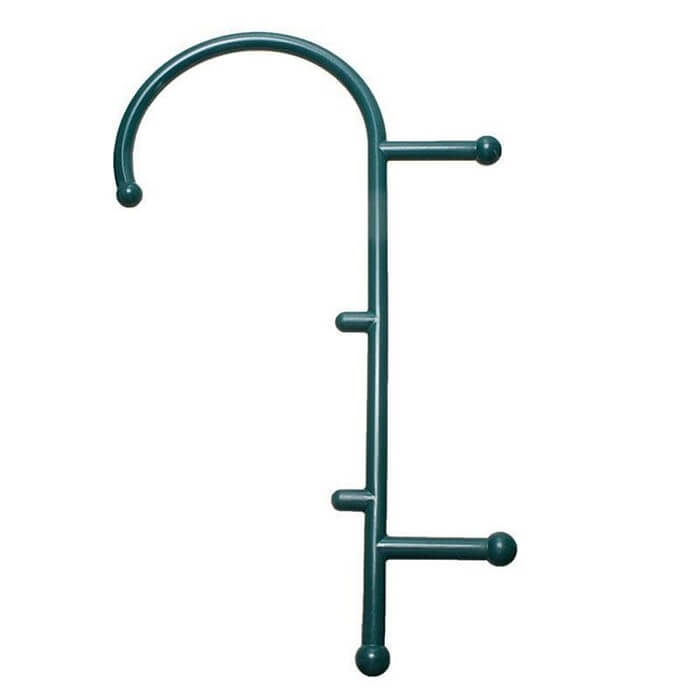 The Thera Cane Massager is one of the most fundamental massaging tools on the market. Though it may do not look like a powerful tool, it's just a green cane with six 'treatment balls' that you can use to kill knots in your muscles. The treatment balls are built to give deep compression and maximize the movement of oxygenated blood to your muscles.
Key Features
6 treatment balls
Eliminates painful knots
Measures 24 x 15 x 1 inches
Lifetime guarantee